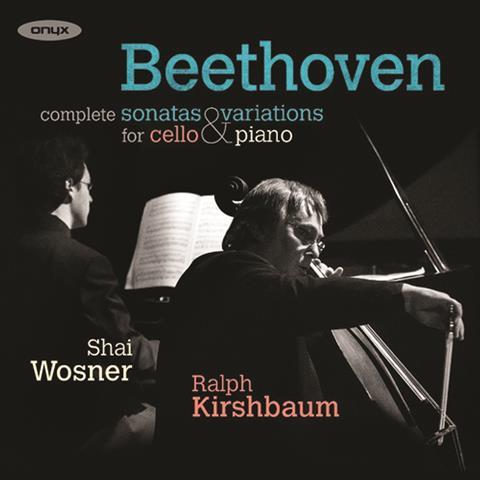 THE STRAD RECOMMENDS
The Strad Issue: March 2017
Description: Kirshbaum picks Romantic Beethoven for his 70th-birthday celebration
Musicians: Ralph Kirshbaum (cello), Shai Wosner (piano)
Composer: Beethoven
Catalogue number: ONYX 4178 (2 CDs)
These discs were recorded in London's Wigmore Hall concurrently with two concerts given there early last year, to mark Ralph Kirshbaum's 70th birthday. Kirshbaum and Wosner first performed their Beethoven cycle in 2014 after six years of preparation and went on to perform the works extensively on concert tours leading up to this recording. Strangely there is no mention of any of this in the booklet, which contains nothing more than programme notes.
It is the rugged, Romantic side of Beethoven that is to the fore in these interpretations. Pure and precise they may not always be – there is the occasional imperfection of intonation, especially on the A string, and a little forcing of tone – but they are full of authentic feeling. From the touchingly hesitant opening of the F major and the heart-on-sleeve emotion of the C major's Tempo d'andante to the forceful aggression in the gritty, biting sforzandos that abound in these works, these are seasoned performances that ring true.
I found Kirshbaum's interpretation of Beethoven's crescendos ending in sudden pianos especially moving – sighs of resignation after moments of hope – and the pair bring a magical sense of calm and stillness to the D major's Adagio con moto, the set's only extended slow movement. The three variation sets, interspersed between the first three sonatas, add a different, lighter perspective and contain much joyful playing, plus impressive virtuosity from Wosner.
The recording, in the warm, intimate Wigmore Hall acoustic, admirably brings out the richness of Kirshbaum's 1729 Montagnana cello and the bright clarity of the piano sound.
Janet Banks