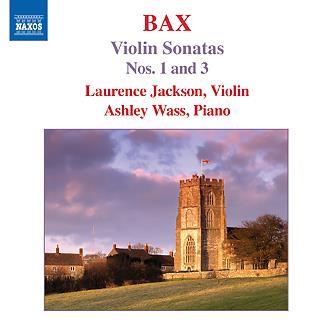 The Strad Issue: January 2006
Musicians: Laurence Jackson (violin) Ashley Wass (piano)
Composer: Bax
Arnold Bax was born into a wealthy Surrey family, which enabled him to indulge his passion for composing away from the usual pressures of having to earn a living from it. He travelled widely and settled in the village of Glencolumcille in Donegal, which remained his base until the outbreak of the First World War. Here he bathed in everything Irish – the country's history, its geography, its customs, legends, poetry and language – he even learned Gaelic and began writing some of his own poetry under the pseudonym 'Dermot O'Byrne'. At first everything seemed idyllic, but the Easter Rising of 1916 came as a brutal reminder of the political harshness of his adopted homeland, especially after his close friend Padraig Pearse, a recognised champion of the Gaelic language, was executed.
The relatively untroubled First Violin Sonata (completed 1915) was composed right at the end of Bax's idyllic first period (the original and more luxuriously structured second and third movements are also included here), whereas the Third, composed just over ten years later, sounds almost like music from a different planet. Laurence Jackson plays both works with beguiling tonal purity and an alluring phrasal sensitivity that work wonders whenever Bax turns introspective and dreamy. He could also hardly hope for more a responsive partner than Bax aficionado Ashley Wass, and producer Andrew Walton has worked miracles in precisely balancing Bax's opulent piano writing against the violin's 'lone voice'. A shade more Scriabinesque abandonment in the Third Sonata's finale would not have gone amiss, but these are otherwise deeply impressive performances.
JULIAN HAYLOCK