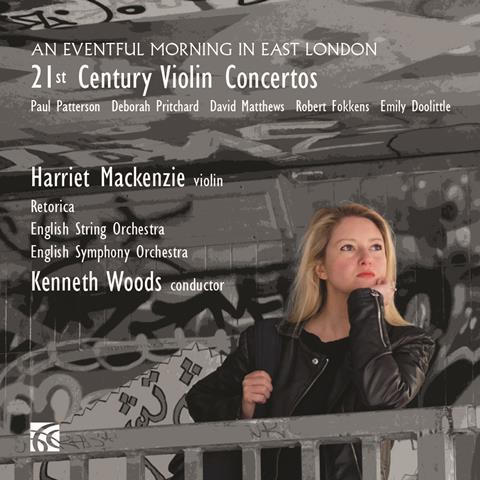 The Strad Issue: September 2017
Description: New music from London's cultural melting pot delivered with conviction
Musicians: Harriet Mackenzie (violin) Philippa Mo (violin), English String Orchestra; English Symphony Orchestra/Kenneth Woods
Composer: Patterson, Pritchard, Matthews, Fokkens, Doolittle
Catalogue Number: NIMBUS NI 6295
If this disc's quirky title leads you to expect something edgy or trendy, think again. It's actually a collection of beautifully crafted but essentially very conservative British works for violin and ensemble from the last few years, serving as a showcase for the bright, enthusiastic playing of young soloist Harriet Mackenzie. Paul Patterson's Allusions (actually for two violins and strings), for example, leans so heavily on Britten and Tippett that it seems to quote them at times, while Deborah Pritchard's neo-Romantic Wall of Water is often quite effusive in its evocations of images by painter Maggi Hambling. Robert Fokkens's An Eventful Morning Near East London is the most distinctive work on the disc, embracing Ligeti-like archness and cartoonish excess, but ultimately feels a little like being excluded from a joke that others are finding hilarious.
The best of the bunch is David Matthews's exquisite Romanza, whose lush string ensemble writing brings a sudden sense of depth and perspective to the disc, and sends Mackenzie tumbling all over her instrument in captivating spiralling melodies. She delivers lithe, sharply defined playing throughout, with a disarming directness to her performances and utter conviction in these works. Recorded sound, however, is a little on the flat side, with soloists and orchestral sections all seemingly given equal weight, which not only makes it sometimes hard to pick out the solo line from orchestral textures, but also robs the performances of some of their colour. DAVID KETTLE