The big reveal - a celebration of a celebrated violin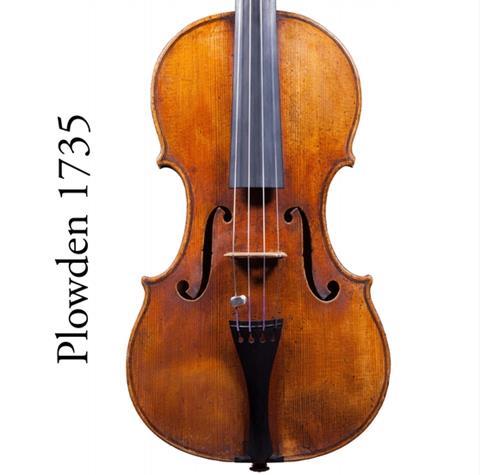 Los Angeles-based Romanian violinist Cristian Fatu has teamed up with Salt Lake City luthier Jordan Hess to create a showcase for the 1735 'Plowden' Guarneri 'del Gesù' violin, intended to help makers and players alike improve their knowledge of the famous instrument. As well as a recording of Fatu performing music by Enescu, Kreisler, Piazzolla and Romanian composer and violinist Ion Voicu, 'The "Plowden" Revealed' download includes a set of more than 200 high-resolution photos of the instrument, to help makers copy its surface in detail.
'I take part in the Violin Society of America's workshops each year at Oberlin Conservatory, which is what whetted my appetite for getting to know as many special instruments as I can,' says Fatu, who plays violins for acoustic testing and has served as a tone judge on the workshops' competition jury. 'Jordan and I met at Oberlin, where he mentioned that he wanted to examine some older instruments, with the intention of taking high-resolution photographs of them. However, getting access to violins of this calibre is obviously very difficult.'
Fatu was able to introduce Hess to Mark Ptashne, a collector who had loaned violins to Fatu after he arrived in the US to pursue his graduate studies. The 'Plowden' is among the instruments in Ptashne's collection, and he allowed Fatu and Hess to study the instrument for a number of hours last year. 'Mark came to West Virginia, where I was teaching, to perform with the university orchestra,' Fatu explains. 'While he was there, I was able to make a recording on the "Plowden", and Jordan took thousands of photos of it in a specially constructed studio. The best and most useful of these are included in the download.
The 'Plowden' was one of the violins included in 'Strad 3D', a 2006 collaboration between luthier Sam Zygmuntowicz and researchers from the Oberlin workshop that created CT scans and three-dimensional 'modal movies' of the violin. It is also featured on one of The Strad 's posters. Fatu and Hess hope that their collaboration will add to this body of knowledge and help people understand the violin in even greater detail.
The 'Plowden' Revealed download $50
email jordanhessviolins@gmail.com