A user-friendly tuning website for stringed instruments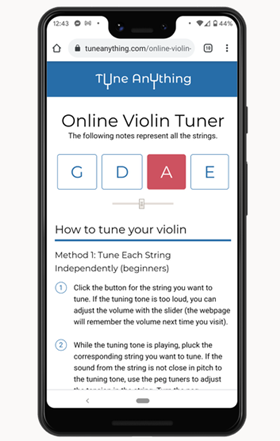 Ease of use is at the core of American software developer Max Longton's new tuning website Tune Anything. 'When we take out our instruments to play, tuning is the first thing we do,' he says, 'so the tuner we use shouldn't be complicated or difficult to use.' Longton has dedicated separate pages to instruments including violin, viola, cello and double bass, each embedded with tuning buttons that correspond to the instruments' different strings. When users click each button, the pitch plays, giving them a reference to tune the instrument. They can also adjust the tone's volume.
Rather than relying on looped recordings of acoustic instruments, which can fluctuate in pitch, Longton has programmed synthesised tones to play at the notes' exact frequencies. This, he says, achieves a tone that is 'continuous, pure and clean'. He has also made different tunings available for the violin, including for Baroque instruments (A=415Hz). The violin and cello pages include tuning guides as well as answers to frequently asked questions about how to tune the instrument. Visitors to the website can continue tuning while they read the text, as the tone keeps playing as they scroll down the page.
Longton invites requests for new tuning pages for different instruments and will make these available for free. 'I'm always updating the website using the latest coding languages, whether that's to make it mobile-optimised or display a better interface,' he explains. The website does not require visitors to register their details, but it uses cookies to remember their most recent settings so that everything will be set up and ready for subsequent visits. It can be accessed on smartphone and computer, and Longton is working to produce an app version of the tuner in the future.
Tune Anything free
email max@tuneanything.com