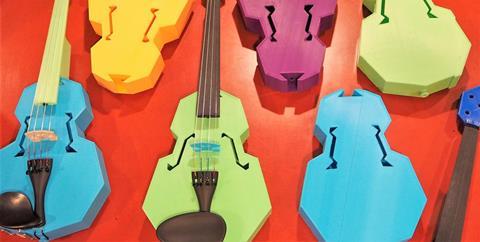 In 2014 David Perry created the F-F-Fiddle, an electric violin for which anyone (in theory) could download the 'parts' and 'print' them out on their 3D printer. Building on subsequent technological advances, Perry has now designed the Modular Fiddle, a 3D-printed acoustic violin with parts – or modules – that can be adapted by the user before printing.
'I decided it was time to sit down and redesign the F-F-Fiddle to incorporate new technologies and the feedback I'd received,' says Perry. 'I was also tired of having to plug it in and wondered what I could achieve in terms of an acoustic instrument that you wouldn't worry about taking camping, for example, and that sounded better than the other 3D-printed acoustic violins out there.
'There are four 3D-printed parts – the violin body, neck, pegbox and bridge – connected by a kind of dovetail joint that eliminates the need for adhesives,' Perry continues. 'This modularity came about as a way to accommodate different people modifying the instrument in different ways.'
The instrument uses standard tailpiece, chinrest and geared tuning pegs of the sort more often encountered on a ukulele. Like those for the F-F-Fiddle, the files needed to print the Modular Fiddle are open source, meaning they can be accessed, used and modified by anyone at no cost. And since not everyone might have the hardware or technical expertise to execute what Perry concedes is 'a difficult set of prints', fully printed sets of parts and even ready-constructed instruments are available to order.
Around 590mm in total length and weighing approximately 600g with fittings, the Modular Fiddle is constructed from polylactide, a compostable plastic well suited to acoustic uses on account of its high rigidity. Supported by a carbon-fibre truss rod, the modular construction is held together by the string tension. 'I'm not trying to build the best violin in the world,' Perry says.
'The Modular Fiddle is waterproof and easy to put together, and allows people to try out different things. My hope is that, by experimenting, people will discover things they can transfer to more traditional making contexts.'
Openfab PDX Modular Fiddle files free to download, $225 (parts), $550 (finished instrument)