Cyril Whistler says he has cracked the code hidden in the score of Gottfried Federlein's 'Marsch-Impromptu'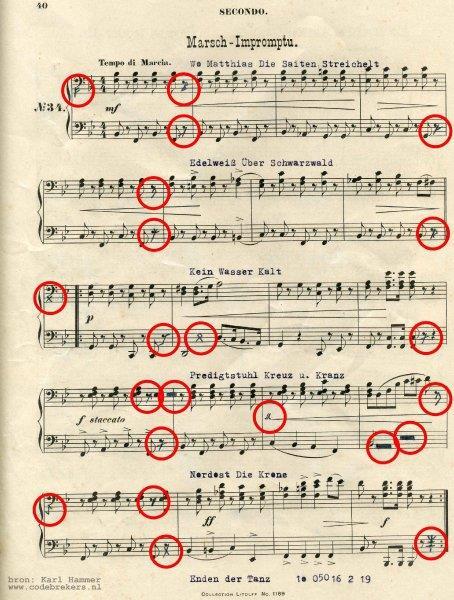 Dutch violin maker and musician Cyril Whistler is claiming to have cracked the code hidden in composer Gottfried Federlein's 'Marsch-Impromptu'. The score, originally discovered by journalist Karl Hammer, supposedly holds the key to a cache of lost gold and diamonds belonging to Adolf Hitler, buried somewhere in Mittenwald, Germany. It is thought the marks and typewritten comments above each line of music were added by Hitler's private secretary Martin Bormann as clues to the whereabouts of the so-called 'Tears of the Wolf'.
In September 2013, The Strad reported that Dutch filmmaker Leon Giesen had carried out three excavations, and was seeking funding for a fourth, based on his study of the manuscript. Having investigated Giesen's research, and conducted his own, Whistler now believes he has found the treasure's exact location 'to the centimetre' in the Bavarian violin making town.
'I studied the score; at first glance an unappealing piece of sheet music with typed annotations and runes. I couldn't see the connection between a Nazi treasure and my beloved Mittenwald,' says Whistler. 'Still, the document was very intriguing to me. Leon Giesen concluded that the runes were added as a distraction. To me however, it seemed the signs and typed letters were there for a reason after all. I soon discovered a typical number. A number that returns over and over again, between the bars as well as encrypted throughout the score. The more I studied the piece, the more I discovered: the letters, the number and the signs reveal a route. I am sure beyond reasonable doubt to have found the exact location which the score leads to.'
The story of Whistler's discovery is the subject of his new book, 'Tears of the Wolf' and a rock opera. The musician does not plan any excavations of his own, but has presented his findings to Mayor Adolf Hornsteiner of Mittenwald and the German minister of Defense, Ursula von der Leyen
View Federlein's 'Marsch-Impromptu' score with highlighted annotations.
Subscribe to The Strad or download our digital edition as part of a 30-day free trial. To purchase single issues click here.