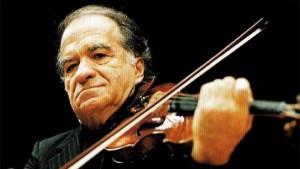 Violin virtuoso Ruggiero Ricci has died at the age of 94, of heart failure, according to his son Gian-Franco Ricci. He was a towering figure in the string world, a former child prodigy known for his technical brilliance and range of colour, which combined in definitive performances of Paganini. His repertoire was diverse, though, and he performed several premieres. He was also a keen pedagogue who held positions at Indiana University, Juilliard and the University of Michigan at Ann Arbor, and regularly wrote about violin technique.
Ricci was born in San Francisco in 1918, although this was sometimes written as 1920 to exaggerate the nature of his prodigious talents. At the age of six his father took him to Louis Persinger, in the wake of the professor's success with Yehudi Menuhin, and the teacher passed Ricci to his teaching assistant Beth Lackey. By the age of seven Ricci was winning prizes and Persinger took him on fully. He made his recital debut in 1928 in San Francisco and in 1930 played for Kreisler, at whose suggestion he went to study in Berlin with Georg Kulenkampff, although he later returned to Persinger.
In 1932, during his first European tour, Ricci made his debut performance in London with Mendelssohn's Violin Concerto, after which The Strad said of him: 'He possesses wonderful technical ability, irrespective of age, and what is probably of more importance, powers of interpretation which save him from becoming just an extremely efficient music robot.'
During the Second World War, as part of his service for the Army Air Force, Ricci played for the troops, which led him to develop his solo repertoire as well as the Paganini with which he became so identified. He explained this focus to The Strad in the November 1989 issue: 'Of course, when I was a kid, I was always trying to prove I could play more fiddle than the next guy and so I played quite a bit of Paganini. When I got out of the army and gave a solo recital in New York, which was a considerable rarity at that time, it was a way of attracting attention. It's very hard to construct a programme for a big city – you need something different. It's all been done and if you do something that's not commonly done, chances are it's a weak work. And so I became a Paganini specialist.'
Such a career came with a price, as Ricci told The Strad in the same issue: 'I was a very lonely child. I used to play eight different kinds of solitaire.' In our November 1998 issue he elaborated: 'When I was a kid I was hailed as some sort of sensation, but then I went through some bad years. It's very difficult when you're 14, 15, 16. You're not a prodigy any more and you're not a mature artist. I always believed in myself and knew I could play the fiddle as well as the next guy, so I decided the only way I could survive was to refine my technical equipment. I played a lot of caprices and etudes, including transcriptions of Brahms, Rachmaninoff and Chopin – real fiddle-breakers – and a whole lot of Bach. This formed the basis of my repertoire and my whole approach to the instrument. Even now, if I don't play for a couple of days I pick up the fiddle and practise scales in 3rds, octaves and so on. The technical standards are so incredibly high that you have to keep in trim.'
Violinist Vadim Repin selected Ricci as one of his idols for The Strad's Violin Heroes, specifying his recording of Saint-Saëns's Fantaisie as a favourite, saying, 'It has something of a soul speaking with complete openness.' He explained Ricci's impact on him: 'Once you hear such playing, it lives with you: the timing, the mood, the atmosphere becomes part of your memory.'
We will feature a full tribute to Ruggiero Ricci in our December issue.