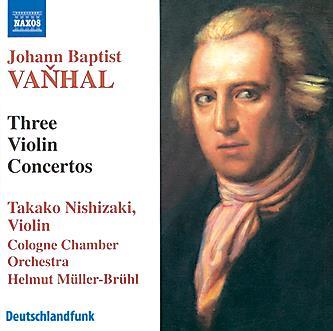 The Strad Issue: January 2007
Musicians: Takako Nishizaki (violin) Cologne Chamber Orchestra, Helmut Müller-Brühl (conductor)
Composer: Vanhal

Takako Nishizaki makes a persuasive case for these three of Vanhal's 15 or so violin concertos, many of which achieved considerable popularity in the 1760s and 1770s. Mozart, for example, records that he played the B flat major Concerto (WIIb:Bb1) in Augsburg in 1777 'to universal applause'. Nishizaki would probably gain similar approbation for her account of this work, which comes over as the best of this bunch.
Nishizaki's neat, largely accurate playing has poise, warmth and humanity. She performs the opening movements in leisurely fashion, realising their thematic content in a broad cantabile manner. She seems particularly relaxed when tackling their challenging passagework, even if her approach may occasionally seem mannered and reserved in spontaneity and bravura personality. The finales are similarly conveyed if somewhat more urgently driven, but that of the G major Concerto (WIIb:G1) sounds bland and lethargic in this reading. Cadenzas are arguably over-elaborate for the prevailing style and some seem to end oddly and abruptly – the first-movement cadenza of the B flat concerto is a case in point.
Nishizaki is reflective, elegant and lyrical in the slow movements, shaping them with a simple eloquence that is disarming. She combines a clear, often sweetly singing line with tasteful embellishment and expressive tonal shading and dynamic contrasts, though one could do without her occasional portamentos. Helmut Müller-Brühl secures polished accompaniments from members of the Cologne Chamber Orchestra, who take up their melodic roles with warmth and sensitivity. The recording is exemplary, with excellent balance and perspective.
ROBIN STOWELL