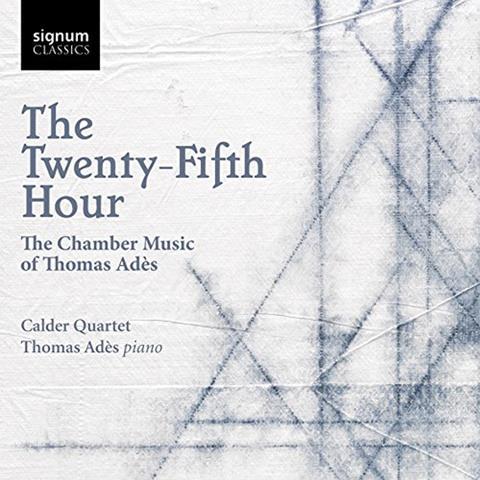 THE STRAD RECOMMENDS
The Strad Issue: July 2015
Description: Experience tells in the fearsome rhythms of Adès's chamber music
Musicians: Calder Quartet, Thomas Adès (piano)
Composer: Adès
The Los Angeles-based Calder Quartet has been playing these three chamber works by Thomas Adès for several years, we are assured in the perceptive booklet notes. And it shows – not just in the players' passionate, confident performances but also in the way they dig straight to the heart of Adès's complex yet thrillingly evocative music, hurdling the fearsome rhythms and quick-change articulations to convey the stories and pictures behind the notes with ringing clarity.
It's there in the seven idyllic sound pictures of Arcadiana – the Calders sound convincingly bandoneón-like in their furious raspings in the fourth-movement tango, while their ultra-English 'O Albion' sixth movement, an endless succession of Elgarian suspensions and imitations, is never played for laughs but instead sounds sincere and intensely moving. And it's there in The Four Quarters, themed around the times of the day, in which the players match Adès's Britten-like lucidity with enormously characterful performances, by turns joyful and introspective. They bring the Brahmsian lyricism of his Piano Quintet firmly to the fore, conveying his multilayered irrational time signatures (3/5 against 3/7 against 4/6, anyone?) with pinpoint accuracy, yet never letting them detract from the rugged beauty of the music.
Adès himself, who joins them for the Quintet, is sometimes rather clangorous in a hammered-out piano part but it doesn't detract from the disc's exceptional performances, captured in warm, vivid sound.
DAVID KETTLE