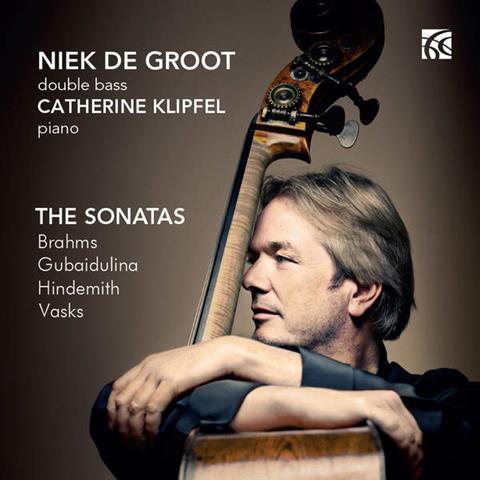 The Strad Issue: December 2015
Description: Brahms on the bass – at pitch! – and three more recent works
Musicians: Niek de Groot (double bass) Catherine Klipfel (piano)
Composer: Brahms, Gubaidulina, Hindemith, Vasks
As his thoughtful message in the booklet states, Niek de Groot's career was forged on the idea that nothing is impossible on his chosen instrument. On hearing his transcription and performance of Brahms's melancholic First Cello Sonata, it's not difficult to be carried away by this idea. The mournful opening of the Allegro will be forever attached to the classic recordings by Isserlis, Rostropovich et al, but de Groot makes it his own, revelling in the sonorous quality of his 1680 Girolamo Amati. This is helped by the fact that, unusually, this piece can be played on the bass in its original key and octave; even where the quality suffers occasionally in murmuring, mid-range passages where a cello might sing more easily, the contrasts de Groot achieves between the propulsive pedal-point passages and barely-there decorative figures are unique pleasures. In Catherine Klipfel (pianist of the Morgenstern Trio) he has found a brilliant collaborator. The pair masterfully negotiate the constant shifts of register which this piece requires, and beautifully complement each other in tone.
The other pieces may be less appealing to many. Stark in construction, Sofia Gubaidulina's Sonata is a difficult prospect, with seemingly little connection between the players. Yet there is nonetheless something sexy and menacing about the scuttling pizzicato outbursts and detached piano mediations. The Hindemith is a better example of this sort of interplay, in which intermittent contrapuntal piano passages are punctuated by the bass, and the overall mood is playful and lyrical. Similarly modern thrills are provided by PÄ"teris Vasks's Sonata, in which the use of percussive techniques such as col legno reveal yet another dimension in which the bass stands alone.
TOM SHORT