International tours bring a wealth of opportunities for discovering new cultures and audiences – along with less pleasant experiences such as jet lag and homesickness. Sarah Mnatzaganian asks string players for their travel tips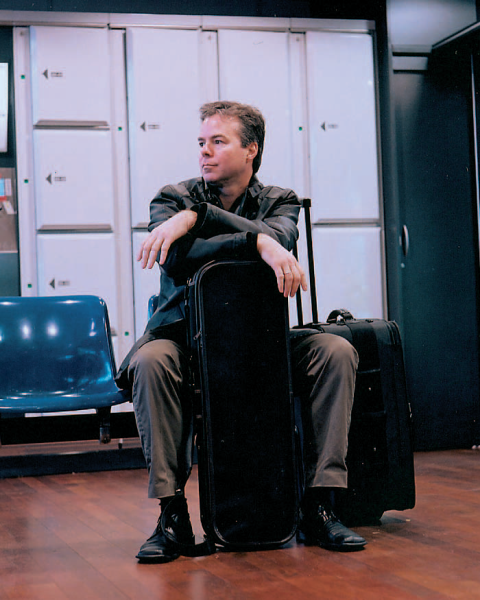 Travel has always been an inescapable dimension of musical life, from the wanderings of medieval minstrels to the jet-setting of today's soloists. When your manager mentions your next tour, does your heart sink at the thought of jet lag and separation from loved ones, or does your mind ignite with excitement in anticipation of foreign landscapes and exotic food? And what's the secret of successful touring, apart from a hefty pay cheque at the end?
Good preparation for the trip is crucial – and this doesn't just mean learning the music or reading the guide books before the flight. Touring can be a surreal experience if you don't take time to prepare emotionally. 'It's a mental process,' explains Danish cellist Morten Zeuthen, who toured with the Kontra Quartet for 25 years. 'I go through a mental loading-up, trying to visualise where I'm going and what the tour's going to be about.' Danny Fajardo, a violinist with the BBC Symphony Orchestra, prepares his body as well as his suitcase before a tour. 'Travelling is exhausting so I like to get some exercise beforehand,' he explains. 'Eating well is also crucial to avoid illness during travel.'
As your departure date approaches, the dreary prospect of packing looms. Most touring string players agree that they'd rather travel light and shop later for anything they've forgotten, rather than worry for hours over a packing list. Cellist Raphael Wallfisch has given up folding clothes. 'I pack as quickly as possible,' he admits. 'It's a chore, like brushing your teeth.' Masumi Per Rostad, violist in the Pacifica Quartet, hates unpacking even more than packing, so he has several half-packed suitcases on the go and keeps 20–30 suits in his wardrobe to avoid running out.
If you're a lucky orchestral player, your instrument will be stowed in the transport van when you arrive at the airport. But soloists and quartet players have to face down officialdom to get their instruments safely on board. Spare a thought for double bassist Roman Patkoló and his colleagues in the bass sextet Bassiona Amorosa. 'Passengers look at us as if we're a travelling circus, six people with six "elephants". When we travel by plane, the flight is always delayed by about half an hour while they find space for six basses in the hold.'
Once in transit, what's the best way to pass the time? Diligent souls may open up their laptops and catch up on emails; others will reach for a good book or consult the film channels. Dormouse types will curl up and get some sleep, particularly on long-haul flights. When she's not resting, violinist Hilary Hahn spends her transit time sketching, writing, learning languages or exercising. 'On long flights I'll often take half an hour to do some ballet stretches in the common area – people look at me as if to say "What are you doing?", but it helps to pass the time and keeps me moving.'
When you finally reach your hotel, you may be too tired to do anything but drop your luggage and crash out until the first rehearsal. Or, faced with a cramped or smoky room, you might find yourself at reception trying to talk your way into a better one. Frank Almond (pictured), concertmaster of the Milwaukee Symphony and Seattle Symphony orchestras, avoids complaining: 'I don't pull much diva behaviour unless things are really outrageous in the room. And I never mention that I'm planning to practise. I just wait for people to complain, which doesn't happen that often. If they do, I tell them I'm Joshua Bell and I have a very important concert!'
If you've managed to sleep during the journey, or you have a decent amount of spare time before the first rehearsal, you'll probably want to head straight into town to explore your surroundings or check out the nearest bar. Susie Mészáros, violist of the Chilingirian Quartet, aims to spend as little time as possible in her hotel room: 'Chilling out in front of a hotel TV can be a bit soul-destroying, so I'll get out and explore, eat street food, jump on a local bus or read in a café rather than stay in my room.'
While it might be tempting to spend every free moment exploring your surroundings, it's important to find a balance between exploring, resting, practising and performing. Almond has learned to guard his free time for resting, practice and mental preparation so that he can concentrate on performing. During recital tours, Hahn has very little free time to explore her surroundings, but she's still able to get a feel for the place in which she's working: 'In a way, being with the audience after a concert is far more telling about the culture than going as a tourist to the biggest monument in the city.'
Most unusual touring items
A stuffed guinea pig – Hilary Hahn
'My travelling essential at the moment is a stuffed guinea pig that I found in my Christmas stocking. It's just a soft toy but it looks quite real. I named it Ptolemy. I used to have guinea pigs and for two years I travelled with a live pet mouse, so Ptolemy is a good companion for me.'
Glue and stove –Colin Carr
'By far the most important thing about touring successfully and happily is to keep yourself and your instrument happy and healthy, so I travel everywhere with a stove and some glue. The stove is for several purposes – it could be to make tea or heat glue or simply to boil water to send steam around the room to increase the humidity for my cello. The only problem is the occasional over-sensitive smoke detector. I did once black out an entire hotel and possibly half of Florence when I stuck in the wrong adaptor. In such cases a wet towel over the case will suffice.'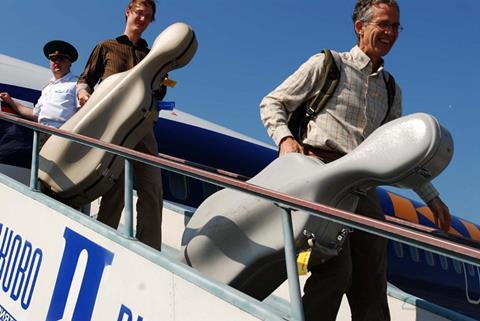 For soloists, touring can be a solitary and sometimes lonely experience. Over the years, Wallfisch has become accustomed to a solitary life on tour: 'I have become very used to being by myself. I don't even mind eating alone in restaurants as I can watch people around me, and I always take a book to read.' For him and many others, one of the advantages of touring is the chance to visit friends and family scattered across the globe.
Travelling in the company of fellow musicians brings its own challenges, particularly if you work in the intense foursome of a quartet. During his years with the Kontra Quartet, Zeuthen and his colleagues developed an unusual survival technique. 'If we had a few hours off in a small town and went out exploring, we'd completely ignore each other if we met in the street: not even a "Hi". We needed the space from each other so much.' Orchestral players, by contrast, often mention how much they enjoy the chance to get to know each other better while they are away on tour.
Even if your social life is going well, how do you cope with one of the worst side effects of touring: jet lag? London Symphony Orchestra cellist Minat Lyons finds that napping stops her getting run down. 'The danger with touring is that you're tempted to go out exploring during the day even when you're jet lagged – then you'll be exhausted for the concert, but have an adrenalin high afterwards,' she explains. 'That means you'll want to go out to eat and drink – but then it's hard to get up early the next morning for a flight. I find if I take time to have a short nap in the afternoon, I'm fine.' Hahn avoids any rigid daily schedule in an attempt to help her cope with constantly changing venues and time zones. 'I sleep when I'm tired, but to help avoid jet lag I leave my curtains open the whole time, so even if I'm sleeping my body still realises it's daytime.'
Along with napping, exercise and good food are key ingredients for surviving the touring life. When he is on tour, happiness for cello soloist Colin Carr depends on good food and strenuous exercise. 'My sneakers always come along with me, wrapped up to avoid muddying any of my stuff. I run five or six miles a day.' After a concert, Wallfisch looks forward to a glass of beer and a good meal. 'Eating late at night isn't good for you but I do get very hungry after playing. You can't just switch off immediately and go to sleep.'
Perhaps the worst side of touring is the pain of separation from family and friends, which can leave you feeling forlorn and remote from everything you love. Technology such as Skype, mobile phones and email makes communication with home easier than ever before but, as Zeuthen reflects, it's still impossible to be in two places at once. 'This is the most important point I learnt about touring – don't try to be in two places simultaneously because it only makes you unhappy. Try to absorb the place you are in as well as you can and then tell your family about it when you get home.'
Wallfisch wonders whether the ease of communicating with home may undermine people's abilities to explore their inner resources. Hahn is also aware of this issue and no longer tries to recreate a home environment in her hotel rooms: 'These days, I try to take my home with me in a more abstract, internal sense – I try to feel settled in myself so that I don't have to depend on my surroundings.' Mészáros once travelled with a photo of her pet collie, but these days she doesn't even take family photos with her: 'Just opening up my case in a dingy backstage room is enough to make me feel at home – I see the tools of my trade lying before me and I know that I'm about to walk out on to the stage with my colleagues and do what I'm on this earth for – to perform.'
This article was first published in the May 2008 issue of The Strad