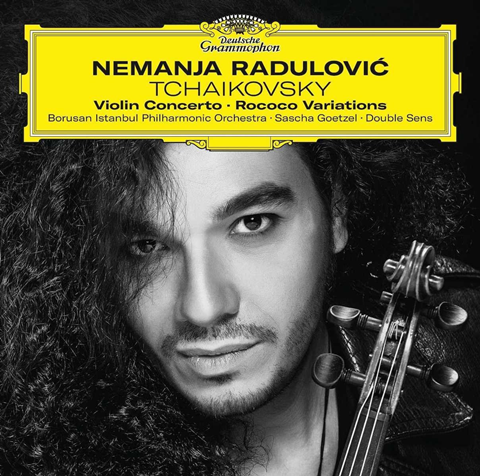 The Strad Issue: March 2018
Description: One soloist doubles up in two Tchaikovsky classics
Musicians: Nemanja Radulović (violin, viola), Borusan Istanbul Philharmonic Orchestra/Sascha Goetzel, Double Sens (string ensemble), Stéphanie Fontanarosa (piano)
Works: TCHAIKOVSKY Violin Concerto in D major op.35; Variations on a Rococo Theme op.33 (arr. Yvan Cassar)
Catalogue Number: DEUTSCHE GRAMMOPHON DG 479 8089
Nemanja Radulović obviously has a big heart, and he loves the Tchaikovsky Concerto with the whole of it. So much so that he risks killing it with too much kindness, giving everything away already at the first statement of the main subject. He is a consistently interesting and perceptive player, though, and of seemingly unending technical resource. With an orchestra that sticks to him like chewing gum to a shoe, and a close, clear recording, the piece achieves an exciting momentum in spite of some rather mannered phrasing along the way.
Performing the Rococo Variations on the viola seems like a good idea, as the piece lies quite high on the cello. An edition by William Primrose was published in 1966, and only a few years back Maxim Rysanov played his own arrangement at the Last Night of the Proms. Radulović's version arrives at some slightly different albeit convincing solutions for the few unavoidable octave changes but one wonders why he deemed it necessary to re-orchestrate the piece for strings and piano, thus losing Tchaikovsky's highly personal use of the woodwind. This not unimportant solecism aside, Radulović proves an adept advocate of the larger instrument. At sprightly tempos, articulation is perfectly clear and the sound focused even at the highest range, while giving a good impersonation of cello sound at those passages performed at the original pitch.
CARLOS MARÍA SOLARE