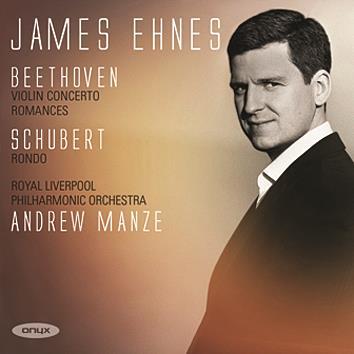 THE STRAD RECOMMENDS
The Strad Issue: December 2017
Description: It's truly a team effort in this elegant account of Beethoven's Concerto
Musicians: James Ehnes (violin) Royal Liverpool Philharmonic Orchestra/Andrew Manze
Works: Beethoven Violin Concerto in D major op.61; Romances: no.1 in G major op.40, no.2 in F major op.50. Schubert Rondo in A major D438
Catalogue Number: ONYX 4167
James Ehnes gives a highly sophisticated performance of Beethoven's Violin Concerto with sensitive support from conductor Andrew Manze – who, in his other guise as a violinist, has performed the piece himself a fair few times. In the long opening paragraph Ehnes's tone glistens. The playing is both pristine and warm, tinged with rubato, just enough to give it life and character. Later his passagework perfectly complements the melodies going on around him: there is great musical teamwork here between all the musicians.
The structure of the first movement is firmly paced and shaped, but this is not the mighty Beethoven favoured by some: it is often genial, conversational, and the forthright fortissimo tuttis are all the more striking in consequence. Kreisler's cadenza is nicely spun, without drawing undue attention to its technical demands, and the final soft statement of the theme has a wonderful simplicity.
The chamber music qualities of the Larghetto are evident here, with Ehnes winding elegantly over beautifully played solos from clarinet and bassoon. The finale shows Beethoven's dance in all its forms, sometimes rustic, at others gentle and twinkling. After the two graceful Romances, Ehnes plays Schubert's Rondo with supple phrasing and rhythmic vitality. The recording is warm and excellently balanced.
TIM HOMFRAY