Romanian violinist Maria Marica won first prize worth €15,000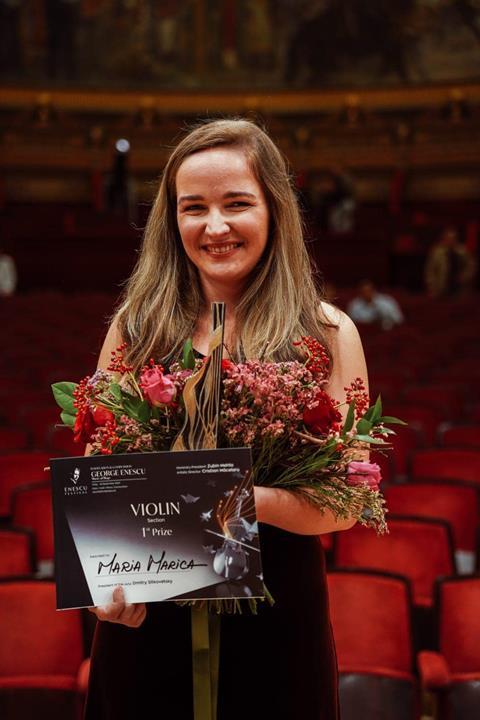 Read more news articles here
The violin finals of the 2022 George Enescu International Competition were held on 13 September at the Romanian Athenaeum. 24-year-old Romanian violinist Maria Marica took victory in front of her home crowd, following her performance of Brahms Violin Concerto.
She also received a special award from the IMK Vienna Association, plus a concert as a soloist with the North Czech Philharmonic Orchestra in 2023 in Prague. With cellist Benjamin Kruithof, the winner of the cello section of the Enescu Competition, Marica will have the opportunity to perform the Brahms Double Concerto in A minor. She will also enjoy concert opportunities in the 2023 and 2024 editions of the George Enescu International Festival and Competition, plus performances in the upcoming seasons of the Romanian Philharmonic.
Marica has been studying the violin since the age of seven and is currently studies with David Grimal at the Saarbrücken University of Music. She is a member of the Les Dissonances Ensemble and was also a member of the Romanian Youth Orchestra, with whom she had the chance to perform in concert halls such as Musikverein Vienna, Elbphilharmonie Hamburg, Philharmonic in Paris, Konzerthaus Berlin. Maria has been supported in the past by the Constance et Andrei Rhoe Foundation and MOL Romania and is currently financially supported by a German state scholarship.
Second prize of €10,000 went to Ștefan Aprodu, while Grégoire Torossian took third prize of €5,000.
The jury was chaired by Dmitry Sitkovetsky and comprised Remus Azoiței, David Grimal, Frank Huang, Simon James, Paul Kantor, Silvia Marcovici, Igor Petrushevski and Krzysztof Wegrzyn.
The 2022 edition marked the return of the competition to the theatre and live audiences. 'I would like to thank the wonderful Bucharest audience that supported all the competitors in this competition with much warmth, love and enthusiasm,' said Sitkovetsky.