Taking place from 12 to 22 April 2018 the competition features 44 international entries as well as a festival of concerts and masterclasses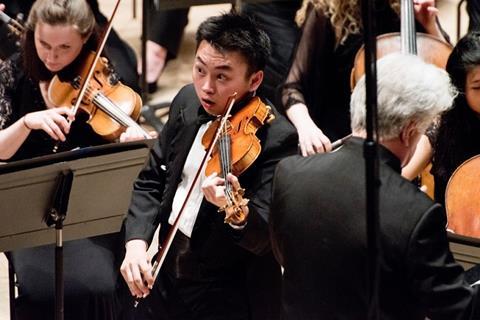 The 2018 Menuhin Competition will be taking place in Geneva from 12 to 22 April, and will invite 44 competitors, half for its junior and half for its senior division.
Founded by Yehudi Menuhin in 1983, the competition's Junior Division is open to violinists aged between 11 and 15, while its Senior Division is for ages 16 to 22.
The biennial competition is unusual in taking place in a different location for each edition, and this is its first visit to Geneva. The previous event, 2016, in the 100th anniversary year of founder Yehudi Menuhin's birth, took place in London. Its winners Ziyu He (Senior Division, pictured) and Yesong Sophie Lee (Junior Division) will be performing a joint recital on 16 April as part of the festival of events surrounding the competition.
The jury members – Pamela Frank (chair), Joji Hattori (vice-chair), Itamar Golan, Ilya Gringolts, Henning Kraggerud, Lu Siqing, Josef Špaček, Maxim Vengerov and Soyoung Yoon – will all be involved in other capacities too, whether performing a concert, giving a masterclass, or both.
The opening concert will feature Marin Alsop conducting the Orchestre de la Suisse Romande with performances from Henning Kraggerud and Yesong Sophie Lee, and the closing gala will feature the Royal Philharmonic Orchestra, performances from the two winners, and contributions from Julian Rachlin, Maxim Vengerov, Soyoung Yoon and Ilya Gringolts. The semi-final and final rounds will all be accompanied by the Geneva Chamber Orchestra.
The competition is open for applications until 31 October 2017 and audience tickets are available now.
Previous prize winners include Tasmin Little, Nikolaj Znaider, Ilya Gingolts, Julia Fischer, Ray Chen, Chad Hoopes, Stephen Waarts and Callum Smart.