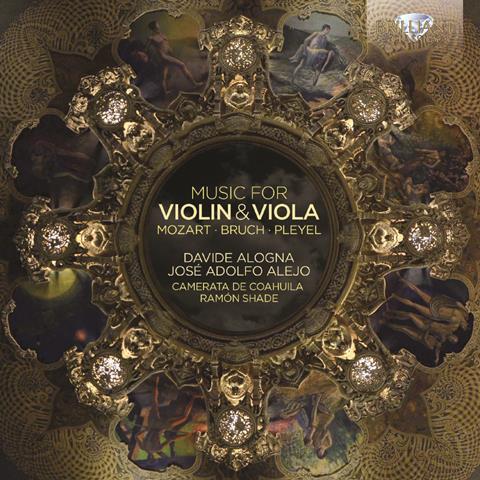 The Strad Issue: March 2017
Description: A bargain collection of repertoire for violin and viola
Musicians: Davide Alogna (violin), José Adolfo Alejo (viola), Camerata de Coahuila/Ramón Shade
Composer: Bruch, Handel-Halvorsen, Martinu¯, Mozart, Pleyel, Ponce, Spohr
Catalogue number: BRILLIANT CLASSICS 95241 (2 CDs)
This CD set explores 'the playful intertwining of two sibling instruments' (to quote the booklet notes), both on their own and with orchestral accompaniment. The soloists are a well-attuned pair, and several repertoire rarities add interest to the enterprise, especially at Brilliant Classics' budget price. On the minus side is the variable quality of the recorded sound, which throughout the first CD, recorded in a Mexico City studio, is both strangely muffled and very close, thus sabotaging whatever the players are doing in the way of dynamic nuance. Things improve in the orchestrally accompanied CD, recorded in the Isauro Martínez Theatre in Torreón, Mexico, but even here Mozart's Sinfonia concertante is compromised by changing perspectives and some quite obvious editing.
Pleyel's Symphonie concertante is an agreeable piece of the 'anything you can do' kind; both players enjoy some agile repartee and swooning passages in parallel 3rds. Bruch's Double Concerto was originally written for clarinet in lieu of violin but also works well as a string duo. The composer's trademark melodiousness is gratefully acknowledged by all concerned. The duo CD includes what is probably the first recording of Sonata a duo by the Mexican composer Manuel Ponce (he of 'Estrellita' fame but also the author of a concerto written for Henryk Szeryng); its abrasive harmonies underscore some profusely embellished melodic lines of a neoclassical hue. A lively performance of Mozart's G major Duo includes a few idiosyncratic details. Spohr's Grand Duo is not an easy piece to put across and is a lot harder to play than it sounds but the players have a good shot at it, getting around the intricate double-stopping as well as anybody.
Carlos Maria Solare