Berlin Philharmonic bassist Edicson Ruiz advocates Viennese tuning and a period bow to bring out the best in this sonorous Classical work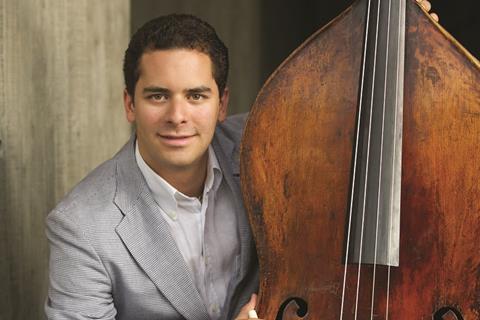 I have a confession: when I was 13 years old and I heard this piece for the first time, played by some of the advanced students in my class in Venezuela, I thought it was horrible. It sounded low, heavy, difficult and not charming at all!
In my opinion, it is probably the most famous and worst played audition piece for double bass, because it has been so largely modified to make it playable with the instruments that we use today. Nowadays this concerto is not even close to what it should be – it has become a completely different piece. On a modern bass, you have to be a genius to make it sound good, and so I always refused to learn it.
I started to experiment with Viennese tuning back in 2005, in my second year at the Berlin Philharmonic, so that I could play the Mozart, Vanhal and Hoffmeister concertos in the correct tuning. It was only in 2009, when I was 24 years old, that I finally decided to learn the Dittersdorf. I wanted to give the piece a chance and I was curious to see how bad it really was. In fact, I discovered that it is an amazing piece! Now I play it all over the place, and I used it to open my concert at Wigmore Hall in London last July. I really believe in it very strongly, when it is played in the period way.
Viennese tuning
Viennese tuning is becoming more and more known, but it is very tiring for young people to practise and learn when they are first studying the double bass. This is because the fingerings are completely different and it's almost like learning a new instrument.
Trying what I recommend here is therefore something most suited to advanced double bass players who want to hear Dittersdorf's music as it would originally have sounded. At the same time, if you try to play Dittersdorf in modern tuning it becomes a sphinx, with the head of a lion, the breasts of a woman and the claws of an eagle!
The sound is closed and dampened, and it feels as though you are trying to talk under water. In the original, Viennese tuning this is a playful piece, full of harmonics and open strings.
Most editions are not in Viennese tuning and today's versions are much shorter than they used to be. This is because so much of Dittersdorf's writing is unplayable in modern tuning. For example, the material from bars 74–82 expands, in the original version, over a whole page, when here it lasts just three lines.
Even so, the music is so difficult, the leaps are so big and the sounds so horrible that we are given the option to make a cut and jump from bar 73 to bar 84. In the original version, with Viennese tuning, the whole passage can be played using open strings and single-position chords! This gives such a variety of colours and makes the music so much richer.
As you will see on page 84, I have written the plain key of D on the top left of the first page; and on the right I have written the sounding pitch of E flat (in Viennese tuning, also known as 3rds-and-4ths tuning, the string pitches are B flat, E flat, G, B flat. They are tuned a semitone higher, so this music will sound in the key of E flat (a free download of the Henle edition in Viennese tuning is available from bit.ly/2PqW3Dy).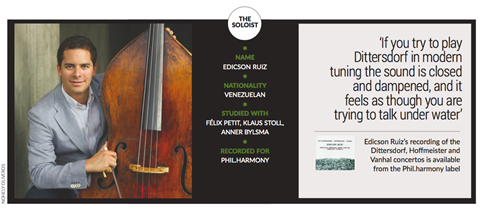 Bowing style
In Baroque times, the shape of the bow meant that players phrased with little bellies in each note and the sound disappeared slightly towards the tip and frog. But from the time of Geminiani, players of the French school really emphasised the beginning of every bar with a down bow.
'… in playing division, if by your manner of bowing you lay a particular stress on the note at the beginning of every bar, so as to render it predominant over the rest, you alter and spoil the true air of the piece, and except where the composer intended it, and where it is always marked, there are very few instances in which it is not very disagreeable.' – Francesco Geminiani, The Art of Playing on the Violin (1751)
Ever since, the fingering we use, the way we accent the notes and the way we try to make our sound quality the same at the tip and the frog are like a school of 'anti-interpretation'. Too much focus on equality kills the fantasy. If we play everything the way we learnt to play it at school, the music will become a cemetery for all the things we love.
A period bow
To avoid this uniformity, I recommend using a period, pre-Viotti 'hammerhead' Classical bow for Dittersdorf. It works very well on the bass because it is not as heavy at the frog as later bows; the heart and brain are the tip, it speaks better and it is sharp and agile. This bow is more about talking and less about singing, which makes it easier to treat every note differently and give it its own character, rather than putting all notes under one umbrella and treating them equally.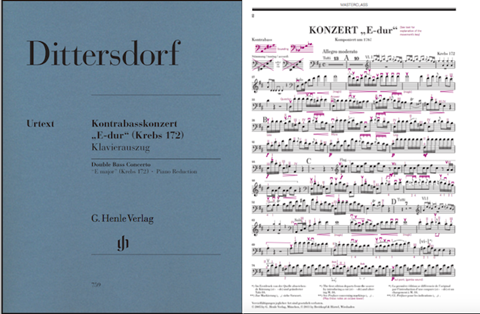 Phrasing and character
Of course, I try to shape and phrase too, but I run away from the idea that every note has to be equal: some are more important, some act as a transition between their neighbours, and others barely leave a mark. For the passage from bars 74 to 84, for example, I like to think of the music in different layers: bass-line, counterpoint and melody.
I pretend that each one is a different character: I might imagine a family conversation between a grandfather, father, young boy and a mother. It makes the music more interesting than if one character assumes all the roles. I continue that idea into bars 85–86, to give the two-note slurs direction and musicality.
Bowing and articulation
I start the first movement of this concerto on a down bow but then, as was common in the Baroque and Classical eras, I bow the piece mostly as it comes. Although I venerate slurs, I tend not to use those printed in modern editions of this piece, for example in bars 30 and 40: they are not in Dittersdorf's original and they change the character.
Sometimes I will play them, but I do not take them seriously. I recommend looking at the original facsimile to check which slurs are authentic and which ones are editorial additions. Many people play the appoggiaturas in bar 51 as grace notes, but these should be played as semiquavers (s) and not too short. Equally, the dots in bar 68 and elsewhere should not be too short: try to think of them as legs without feet or calves, rather than as unmusical chicken pecks.
To see the marked-up sheet music, in association with Henle Verlag, download The Strad's October 2018 issue on desktop computer or via the The Strad App, or buy the print edition
INTERVIEW BY PAULINE HARDING