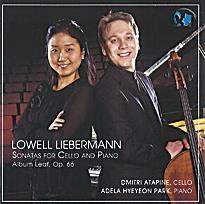 The Strad Issue: January 2012
Description: A rewarding cycle of sonatas, warmly played
Musicians: Dmitri Atapine (cello) Adela Hyeyeon Park (piano)
Composer: Liebermann
Cello sonatas have punctuated Lowell Liebermann's career as one of America's most frequently performed composers. His four works in the medium are written in a modern tonality that is enriched by his ready gift for melodic invention. His earliest, an often dramatic and highly charged piece, dates from his student days in 1978, when he seems to have been under the spell of early 20th-century Russian music. Written after a gap of 20 years, no.2 turns to the cello's soulful qualities in its opening, though it has wide mood swings that continue in the Third Sonata (1999), whose quiet central section must be among the most innately beautiful cello creations of recent times. The Fourth dates from 2008, and its content is a little more acerbic, though creamy passages still remain. By contrast, the short Album Leaf was intended for students of contemporary music.
These two multi-award-winning musicians prove highly persuasive advocates, and, though it would have been better if a rather untidy passage in the First Sonata had been re-recorded, Dmitri Atapine's playing is highly impressive throughout. He is particularly successful in the works' various long and flowing quiet passages, where he achieves seamless bow changes. The recording's balance is kindly disposed to Adela Hyeyeon Park's piano and she brings much required impact, particularly to the First Sonata's more abrasive moments.



DAVID DENTON