The new membership scheme is not mandatory and musicians may continue to use the sheet music downloading service for free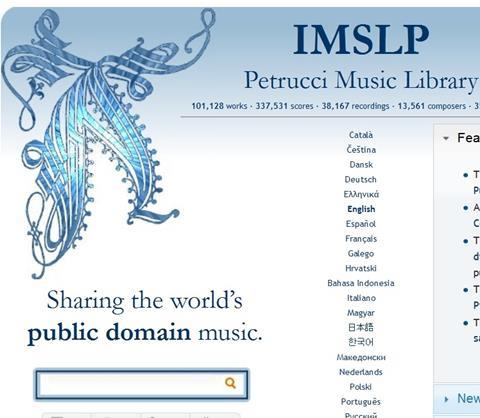 The IMSLP Petrucci Music Library announced a new membership plan in December. Up to this point the online sheet music service has been entirely free, providing access to over 350,000 downloads of non-copyrighted musical scores, and over 30,000 music recordings. The new membership service – costing $22.80 per year – will provide certain benefits, but is not mandatory and users may continue to use the service for free.
Paid membership will ensure no waiting period for downloads – those who continue to use the free service will be required to wait 15 seconds before the score appears, unless the work is licensed via Creative Commons. Paid members will also avoid advertisements, and gain access to newly submitted files, which are not immediately available to non-members.
IMSLP founder Edward Guo explained the changes in an online statement:
'The income we receive from various sources have been enough to maintain the site so far, but I increasingly believe that this level of funding is not sustainable in the long run. We are not, like traditional music libraries, bound by the service of a conservatory, university or publisher, but rather can do things that traditional institutions are not willing to do, because we serve only musicians and music lovers. But everything is a tradeoff - we also do not have the funding infrastructure these traditional institutions have, and over the past few years I've frankly exhausted my imagination in searching for new realistic sources of funding for IMSLP.
'And so I will announce here that a subscription system for IMSLP will be put in place. But this will not be a traditional subscription model - in particular, no file will be blocked from access by the public. Rather, a subscription will permit a member to download files without having to wait a certain number of seconds, eliminiate some of the advertising on the site, and a few other benefits. I see this as a way to both preserve IMSLP's philosophy of open access and to secure IMSLP's future.'
Ray Chen launches The Strad's new marked-up sheet music series with the first movement of Mozart's Violin Concerto no.3 – giving bowings, fingerings and ideas for interpretation in our January 2016 issue. Download now through The Strad App.