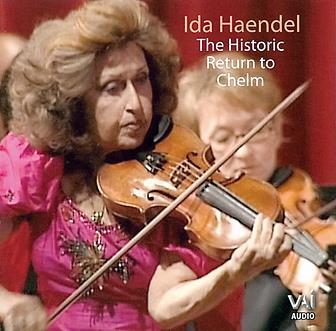 The Strad Issue: January 2007
Musicians: Ida Haendel (violin) Capella Cracoviensis, Stanislaw Galonski (conductor)
Composer: Bach, Tartini, Wieniawski, Sarasate, Tchaikovsky, Bruch
Last year Ida Haendel made an emotional return to perform in the Polish town of Chelm, where she had been born 83 years before. She had begun playing the violin at the age of three and was the winner of the Huberman Competition seven years later, but her success in the Wieniawski Competition a couple of years on marked the start of her touring career.
It is not within Haendel's psyche to have chosen a safe programme for such an auspicious event, but to select some of the most taxing virtuoso showpieces at this time in her life was quite daring – and the results remarkable. She takes risks with her choice of fast tempos, but it is not simply a question of brilliant technique, for she has always possessed an element of bravura that excites audiences: Zigeunerweisen is electrifying as she performs all of the technical tricks required with audacious dexterity and security.
Yet move to Bach's Andante from the Second Sonata to experience a wonderful sense of serenity, one equally created in her haunting account of a solo violin version of Bruch's Kol nidrei.
She does take the liberty of playing her virile reading of the Tartini Sonata in an arrangement for orchestra that I don't particularly care for, and she has devised a solo version of the Russian Dance from Swan Lake that is certainly unusual.
For much of the time the orchestra is more than happy to form a backdrop, with Stanislaw Galonski glued to her sometimes wilful changes of tempos, while the recording places Haendel very much to the fore.
DAVID DENTON