The great British viola player was undeservedly overshadowed by Lionel Tertis and William Primrose, writes Tully Potter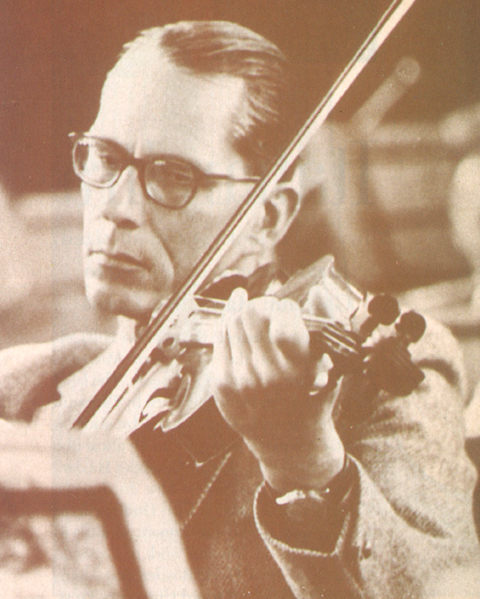 The modest, self-deprecating manner of Frederick Riddle concealed one of the most sensitive British artists to have played the viola. At a time when the scene was dominated by the extrovert Lionel Tertis and William Primrose, Riddle represented a quieter, more inward approach, in some ways truer to the innate character of the instument. He was born in Liverpool on 20 April 1912 but grew up in Kent and had his first violin lessons at the age of five from Elsie Dudding. His father, a horn player in the Band of the Royal Marines at Chatham, made sure that Fred practised every morning before going to school.
At the age of ten he was playing in the local cinema on Saturday afternoons and giving regular concerts - often transposing the music up an octave to be heard better - for a fee of ten shillings. His perfect sense of pitch caused him problems in those days, when two pitches still competed in Britain.
Aged 16, he won a scholarship to study the violin at the Royal College of Music with Dudding's teacher Maurice Sons, a pupil of Henri Vieuxtemps. 'I did viola second study because I was a very bad second-study pianist,' Riddle recalled. Taught by the fine chamber musician Ernest Tomlinson, he was found to have a natural aptitude for the viola - his hands were large, with a good stretch and unusually long fingers - and as he said: 'I was stuck with it'. Later Riddle openly regretted not having attempted a career on the violin and seemed to feel that he had missed out on his real métier (he owned at least two fiddles to the end of his days). He tended to pooh-pooh the awe in which younger violists held him and played down his exceptional contribution to British musical life. A more objective view would surely be that, in him, the world lost a good violinist and gained a great violist.
Riddle joined the London Symphony Orchestra at the age of 20 and was appointed principal viola by Sir Hamilton Harty in 1934 when Alfred Hobday retired and Anthony Collins went to America. He was a founder member of the Blech Quartet and later played in the Catterall Quartet, but never took kindly to the quartet player's way of life - he was too much of a lone wolf. 'Never join a quartet,' he would say. 'You'll probably all end up hating each other'. He led the violas in the Glyndebourne Festival Orchestra under Fritz Busch and the New Queen's Hall Orchestra (it was surely he who played the viola solo so beautifully in Sir Henry Wood's recording of Vaughan Williams' Second Symphony).
In 1938 he was approached by Sir Thomas Beecham to become principal viola of the London Philharmonic; he asked for the same salary as Léon Goossens (then the orchestra's principal oboe), 20 guineas a week, and was hired for 18 (other principals received 12). Riddle always acknowledged Beecham as the dominant musical influence in his life, saying: 'My best times were with Tommy. He was a genius. He had a twinkle in his eye - he enjoyed music and people'. While he was with the LPO, Riddle made his recording of the Walton Concerto, with the composer conducting (Dutton CDAX 8003), for which he received a £25 fee but no royalties. It is still considered the benchmark performance. After one season with the LPO he went into the BBC Salon Orchestra, a magnificent light music ensemble which boasted such string players as Jean Pougnet, David Wise, Tom Jenkins, Rae Jenkins, Anthony Pini, Douglas Cameron and Victor Watson. That band was evacuated to the Cotswolds after war broke out in 1939 and, at Walter Legge's behest, Riddle joined the Liverpool Philharmonic, which was soon recognised as Britain's best wartime orchestra. He was also one of the original members (with Henry Holst, Pougnet and Pini) of the Philharmonia Quartet, out of which Legge later developed his orchestra of that name. From 1942 Riddle saw service as a corporal in the Somerset Light Infantry and he always had a somewhat military air after that, his natural reserve becoming, if anything, rather deeper.
After the war Riddle played in the Philharmonia Orchestra in its early days, then reclaimed his place in the LPO. He was a frequent soloist at the Proms, especially in Mozart's Sinfonia Concertante, and gave many concerts with the Wigmore Ensemble, especially its harp trio. Before the war he had played in the notable Philharmonic String Trio, with David Martin and James Whitehouse (their Decca 78rpm recording of Jean Francaix's Trio is gorgeous - and hilarious in the finale). After the war Riddle replaced William Primrose in the London String Trio, with Jean Pougnet and Anthony Pini. Their mono LP record of Hindemith's First Trio - one of a number made in Vienna for the Westminster label in the space of about ten days and encompassing works by Haydn, Mozart, Beethoven, Berkeley, Dohnányi, Françaix and Wilton - was one of the most heroic performances by a British string ensemble. Many people play the lesser Second Trio which is also on that historic LP but few tackle the more rugged First. (It has often been alleged, not least by the players themselves, that these records were knocked off with virtually no rehearsal; but all three musicians knew the string trio repertoire rather better than they admitted.)
Riddle's solo warhorses included Berlioz's Harold in ltaly, Ghedini's Musica da Concerto and the concertos by Bax, Rubbra and Fricker, as well as the Barbirolli/Handel 'Concerto'. He played both versions of the intriguing Sonata by the Australian composer Arthur Benjamin, the original with piano and the edition with orchestra that Benjamin made for Primrose. He introduced works by Malcolm Arnold, Justin Connolly, Martin Dalby, Alun Hoddinott, Elisabeth Lutyens and Alan Rawsthorne. In 1953 he resigned from the LPO on a matter of principle and switched to Beecham's new Royal Philharmonic, where he served as head of a brilliant viola section - and a valued adviser to both Sir Thomas and the RPO's next conductor, Rudolf Kempe. Retiring from the orchestra at 65, he spent the next decade freelancing and teaching, with occasional forays into chamber music - during the late 1970s he played in the Robles Trio. But when he moved to the Isle of Wight in 1987 he closed his viola case, never to open it again. All his best instruments and bows were sold.
Riddle taught at London's Royal College of Music for almost four decades, beginning in 1948; he was associated with the National Youth Orchestra from its inception and both coached and examined at the National Centre for Orchestral Studies. He was awarded the OBE in 1980. As a young man he was immensely impressed by Tertis: 'He was a marvellous player: He made an enormous sound. There were no faults in his playing. He was a great performer, very individual, with his own style.' Yet Riddle's own sound was much more alto-inclined than that of the tenor-biased Tertis; he drew a more concentrated, lyrical line from his instrument and his tone was more transparent. At its best, his playing had a tension and sincerity which was heart-wrenching. His early viola was a 17-inch Brescian instrument which had belonged to the brilliant but short-lived Tertis pupil Harry Berly. He then had a 16 1/2- inch Brothers Grancino which had 'a big sound, not right for everything'; and Victor Huddlesworth made an instrument for him. 'Larger violas are not good for everything - you can't play chamber music on them,' he stressed.
Frederick Riddle was married twice and was survived after his death on 5 February 1995 by his second wife Helen and three daughters - one by his fìrst marriage - as well as several grandchildren.
This article was first published in The Strad's May 1995 issue. Subscribe to The Strad or download our digital edition as part of a 30-day free trial. To purchase single issues