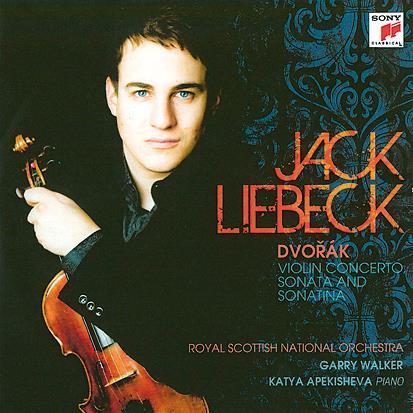 The Strad Issue: January 2009
Musicians: Jack Liebeck (violin) Katya Apekisheva (piano) Royal Scottish National Orchestra/Garry Walker
Composer: Dvorák
Bringing together all three of Dvo?ák's major solo violin scores is an excellent idea for a well-filled disc, particularly so when offered in such outstanding performances. Having rejected the competition circuit as a quick-fix route, the young British violinist Jack Liebeck has matured in his own good time, and here presents a poetic, purposeful and well-considered account of the concerto. His strong and incisive approach vividly conveys the sharp changes of mood in the unconventionally shaped opening movement. His slow movement is yearningly beautiful and warmly Romantic, and his use of rubato smooths the rather abrupt changes of pulse. The basic tempo for the finale does seem a fraction slow, yet there is no lack in Slavonic flavour and it does prevent the music becoming overheated. Technically, Liebeck is untroubled, his bowing in the finale brings a brilliant sparkle to the music's inherent joy and his clean articulation and pinpoint intonation are a constant delight. The Scottish orchestra gives excellently support.
All of Liebeck's virtues carry over into the sonata and sonatina, where his range of tonal shades is put to good effect within some wonderfully pliable music-making, with which Katya Apekisheva's piano playing is always in perfect accord. I particularly enjoyed their Sonatina, a score within the scope of young students, and here emerging with unaffected charm, with the use of subtle shifts in tempo and phrasing deflecting from its inherent repetitiveness.
Balance is ideal throughout the disc, and the orchestral sound in the concerto is open and clearly detailed.


DAVID DENTON