The Tianjin Juilliard School offers a Master of Music (MM) degree in three unique collaborative majors – instrumental and orchestral studies, instrumental and chamber music studies, and collaborative piano.
The instrumental and orchestral studies major trains musicians at the highest level for careers as members of symphony orchestras and other large performing ensembles. It is one of the most comprehensive and selective programs of its kind. Major study revolves around participation in the Tianjin Juilliard Orchestra and through private lessons and coachings from an international roster of faculty-in-residence who will play side-by-side with their students in orchestra. Students will also be coached by Juilliard New York faculty members and other visiting artist-teachers. There is ample opportunity to participate in mock as well as real-world auditions.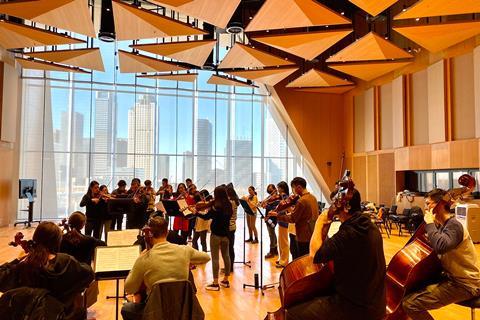 The instrumental and chamber music studies offers a unique program of study dedicated to preparing musicians for careers playing in professional chamber music ensembles. This program creates a foundation for individuals and existing chamber ensembles who are ready to establish themselves professionally. All chamber music groups receive coachings from our international faculty-in-residence, which includes all members of Shanghai Quartet; Juilliard New York visiting faculty members including the Juilliard String Quartet; and other visiting artist-teachers. This major is open to applications from individuals and pre-formed chamber groups. Additionally, pre-formed string quartets and piano trios are eligible to receive the Chamber Music Fellowship, which is a fully-funded program that includes the cost of tuition, housing, and a professional development stipend. The Fellowship group will also receive enhanced opportunities made available by the school.
Entry Requirements
A bachelor's degree or its equivalent by the time you matriculate (generally including at least 24 credits in liberal arts subjects)


Musical training at a high level


English language proficiency that meets our outlined requirements
All applicants must complete the online application, pre-screening videos, and a final audition to be considered for admissions. Please visit our website for a complete overview of required materials as part of the application process. Applications open in September of each year for matriculation in the fall of the following year.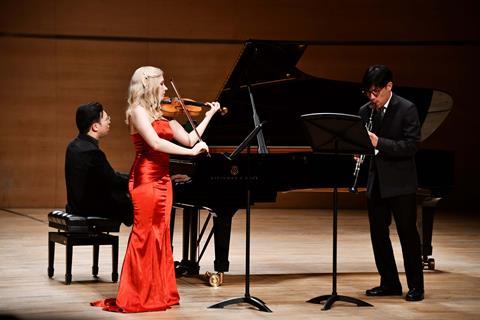 Scholarship and Financial Aid
Generous financial assistance in the form of scholarships, including full-tuition scholarships and fellowships, are available to qualified students to support their artistic and educational journey at The Tianjin Juilliard School.
All admitted applicants will be considered for scholarship and The Tianjin Juilliard Fellowship provided that they complete the Graduate Studies application, submit all required application materials, and complete and submit the CSS Profile found on the College Board website.
Scholarship decisions are made by the Tianjin Juilliard Scholarship Committee after applicants are offered admission to Tianjin Juilliard, and are based on a combination of artistic merit and financial need. Scholarships are awarded for the duration of the two-year Master of Music degree program.
Contact
Yuting Wu, Interim Associate Director of Graduate Admissions
Office of Admissions
+86 022 2576 4890