Broadcasters routinely neglect and patronise historic recordings made by some of the greatest-ever string players, in favour of modern ones. They're failing in their duties, according to Tully Potter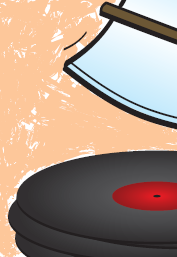 Imagine walking into the National Gallery and finding that all exhibits dating from before 1960 had been packed away, because some officious curator had decided they were too old to interest you.
Well might you feel cheated, as I feel cheated by BBC Radio 3. It devotes much time to broadcasting commercial recordings but for years has been ignoring acoustic discs – 25 per cent of recording history – and has also virtually given up on electric 78rpm discs, another 25 per cent of a glorious heritage. Nor will you often hear an early LP from the 1950s.
Not long ago, I did a straw poll among my worldwide contacts. The report from Chicago was quite good, but it appeared that many American radio stations no longer had the facility to play LPs, let alone 78rpm discs. The situation was equally dire in Europe and the Far East as far as shellac discs were concerned.
Why does it matter if old records are no longer broadcast? Well, many of them are very beautiful and enshrine performances which are fascinating in their own right. Made before editing was possible, they present the music precisely as it was played at a particular time on a particular day.
They reveal insights of artists of the past and represent the wishes of such composers as Brahms, Dvorák, Elgar, Debussy, Ravel and Bartók with an authenticity impossible to recapture today.
Let us assume that serious classical recording began in 1902, when Enrico Caruso cut his first discs. By then the great English cellist W.H. Squire had already begun recording.
During the next 23 years some illustrious string players poured their art into the recording horn. Those who recorded only in the acoustic era include Joseph Joachim, Pablo de Sarasate, Eugène Ysaÿe, Karol Gregorowicz, Joan Manén, Oskar Nedbal and Alexander Wierzbilowicz. Lionel Tertis's acoustic Vocalions are appreciably better than his electric Columbias.
I have been annotating Fritz Kreisler's 1914–15 discs. The violin recorded well from the beginning and by then HMV in London and Victor in New York had achieved a high degree of expertise.
Kreisler, in his late 30s, was at his peak and capable of beguiling wizardry. Pablo Casals, at a similar age, was just beginning to record and was in the full flood of his maturity.
The microphone arrived in 1925 and the next quarter of a century saw a golden age of electric recording on 78rpm discs. Think of the chamber groups that visited the studios in the 1930s: the Busch Quartet, still unsurpassed in Beethoven, Brahms and Schubert, the Léner, Budapest, Pro Arte, Calvet, Prague and Ondrícek quartets, the Busch–Serkin and Goldberg–Kraus duos, the Pasquier String Trio. Jascha Heifetz made perhaps his loveliest records by this process. Mischa Elman, Bronislaw Huberman, Joseph Szigeti, Gregor Piatigorsky and Gaspar Cassadò were thriving.
Gut strings still ruled and national string styles could be heard in orchestras. The Vienna Philharmonic had a ravishing sound on its 1929–38 discs, with Arnold Rosé leading. In 1938 Václav Talich and the Czech Philharmonic strings made a recording of Suk's Serenade that has yet to be matched for supple, silvery magic. Sergey Koussevitzky drew wonderful sonorities from the Boston Symphony string corps, with its legendary violas. Willem Mengelberg's Concertgebouw Orchestra was a byword for string tone.
The listener's ear soon adjusts to the surface noise and restricted dynamic range, yet on the rare occasion when a historic interpretation is allowed on to the airwaves, it is introduced in a sickening, cringing, apologetic manner guaranteed to put off anyone who is coming fresh to it. No apology need be made for artists such as those named above, and no sensible person would expect an eighty-year-old recording to sound like an eight-year-old one.
I was eleven when I started collecting records and I made many discoveries through the radio. Record shops have now all but disappeared and the internet is a hit-and-miss substitute. We need our broadcasters to do their duty and give us the best, most rewarding musical performances, regardless of age.