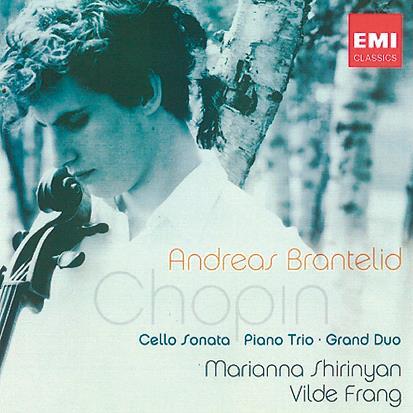 The Strad Issue: January 2010
Musicians: Vilde Frang (violin), Andreas Brantelid (cello), Marianna Shirinyan (piano)
Composer: Chopin
For his second disc with EMI, rising Danish cello star Andreas Brantelid offers a convincing interpretation of Chopin's Cello Sonata with Marianna Shirinyan. In the first movement he focuses on the music's dreamy, yearning qualities, with a particularly magical silence preceding the new theme. He really bites into his 1690 Grancino cello at the start of the scherzo, using a playful upwards flick of the left hand in the initial melody, and he plays the waltz-like middle section expansively with a lush, soaring tone. There's a wistfulness to the Largo, where the tone in the lower passages is full and earthy, while the duo's full-on approach works well in the tricksy finale. The occasional audible rasping intake of breath keeps the immediate recorded sound earthbound.
Brantelid is exceptionally well partnered in the early Piano Trio, with Norwegian violinist Vilde Frang's melodies well characterised and a wonderful blend of violin and cello tone. From its vibrant con fuoco opening, the performance grabs your attention and doesn't let it go. There's some dazzling playing from Shirinyan, both here and in the concerto-like opening of the Grand Duo, which runs the whole gamut of the French grand opera experience, with virtuoso playing à deux. Brantelid's intense tone and vibrato render the climactic cello theme over low piano tremolo all the more passionate.
JANET BANKS