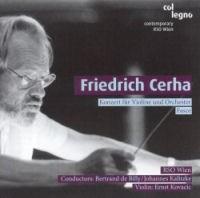 The Strad Issue: January 2007
Musicians: Ernst Kovacic (violin) Vienna Radio Symphony Orchestra, Bertrand de Billy (conductor), Johannes Kalitzke (conductor)*
Composer: Cerha
Friedrich Cerha is best known among Anglophones for his completion of Berg's Lulu, but his own work reveals a thoughtful engagement with the Austro–German tradition undertaken less self-consciously than by, say, Hans Werner Henze. The Violin Concerto may lack the imposing identity of his Cello Concerto, perhaps because of its origin as a test piece for the Jacques Thibaud competition.
The usual three movements are all rhapsodic in character, never settling in one mood for long. Ernst Kovacic seems absolutely right to lay into the first movement's bluff alternations as if they were by Beethoven or Schoenberg, but the superbly judged orchestral parts – always responding to the soloist, never overwhelming him – and stratospheric solo line more often remind me of Szymanowski's First Concerto, down to an alternation of triple and duple metre in the finale generating a crisis that is only resolved by a long cadenza. Here, in the soloist's melancholy reflections, half-lit by celesta and clarinet, Wozzeck comes inevitably to the fore.
Kovacic is perilously exposed and yet considering that this is a premiere performance, recorded live, he displays an astonishing security both of tuning and sense of direction. The alternately deafening and inaudible clusters of Fasce are very much of their time (1959, revised 1974); equally well played and recorded, but I'll stick with the concerto.
Peter Quantrill