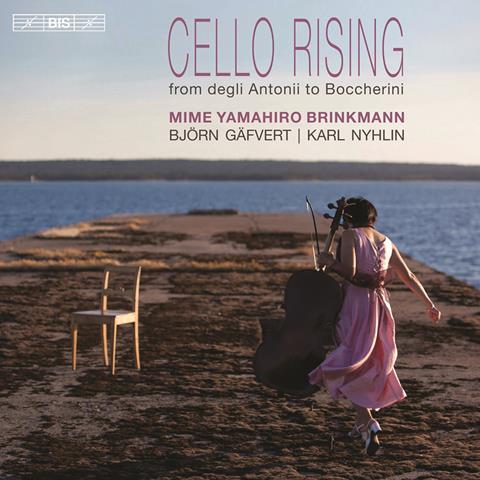 The Strad Issue: October 2016
Description: Expressive explorations of early repertoire for cello
Musicians: Mime Yamahiro Brinkmann (cello), Björn Gäfvert (harpsichord), Karl Nyhlin (guitar)
Composer: Antonio, Boismortier, Boccherini, Gabrielli, Galli, Telemann
Catalogue number: BIS 2214 (SACD)
Cello Rising, Mime Yamahiro Brinkmann's solo debut on CD, charts the emergence of the cello as a solo instrument in the late 17th and 18th centuries, while neatly sidestepping Bach.
Even in the relatively simple 1691 solo sonata by Domenico Galli, Brinkmann's playing is notable for its expressiveness. Her phrasing sounds as natural as breathing, and she plays with a human touch that is the opposite of the virtuosic automaton, although I did find myself longing for the occasional touch of vibrato.
As the music progresses through Domenico Gabrielli's G major Sonata, with its expressive suspensions in the Largo, and the delightfully light cross-string semiquavers in the Telemann, there really is a sense of the cello rising to prominence.
It rises up the fingerboard too, as Brinkmann's left hand gets closer and closer to the bridge with astounding virtuosity until finally, in the last movement of Boccherini's A major Sonata, her 1750 Italian cello gives up the struggle to sing, so extreme is the tessitura.
The booklet notes comprise just a light-hearted essay by Sweden-based Brinkmann, who studied in Tokyo and The Hague, but there is a frustrating lack of information about the works or interpretative approach. The closely recorded sound has a raw, earthy feel, with plenty of wood, gut and clattering of hammers.
Janet Banks