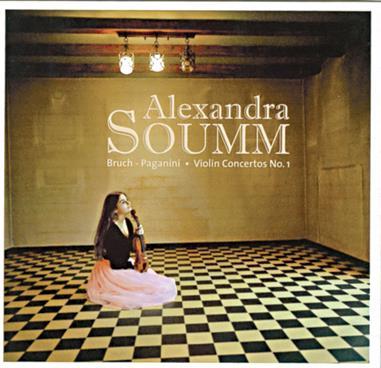 The Strad Issue: January 2008
Musicians: Alexandra Soumm (violin) Deutsche Staatsphilharmonie Rheinland-Pfalz, Georg Mark (conductor)
Composer: Bruch, Paganini
At 19, Alexandra Soumm has already established herself as a fine violinist, with a number of high-profile successes to her name, including top spot at the 2004 Eurovision Competition for young musicians. In many respects, this debut disc should be numbered among them.
Soumm's reading of the Bruch has a depth and a tenderness that are highly appealing, even if some of the tempos seem rather slow. Soumm gives the work a sense of profundity, although there is a danger that it can become a 'chocolate box' rendition, praiseworthy for its lushness rather than for its intellectual engagement. She does not convey a sense of architecture as well as she might, and her powerful vibrato and tendency to swell the tone on notes within melodic passages do not help one grasp the overall shape and design of phrases. This said, in the modern understanding of 'Romantic sound', Soumm excels with a powerful reading.
The Paganini work, with its brassy orchestration and propensity to veer between pathos and exhibitionism, is a different prospect, and Soumm responds well with a brighter timbre, although there is an inclination towards harshness in high passages and a metallic forcefulness to some of Paganini's stratospheric writing. This said, her playing is energetic and technically very accomplished.
Looking beyond the lavish packaging and artistic photographs, this is a very conventional disc, however. The orchestral playing doesn't help – there are moments of poor ensemble co-ordination and intonation, and it all sounds rather tired. Furthermore the rather reverberant acoustic (particularly noticeable in the leaner textures of the Paganini) can result in some lack of sound clarity. Although the engineering of the recording is generally very good, some of the wind entries in the Bruch in particular sound rather lost, although Soumm's tone is well conveyed.
I hope that Alexandra Soumm finds a more distinctive voice in future to go along with her warm and passionate timbre, which is compelling.
David Milsom