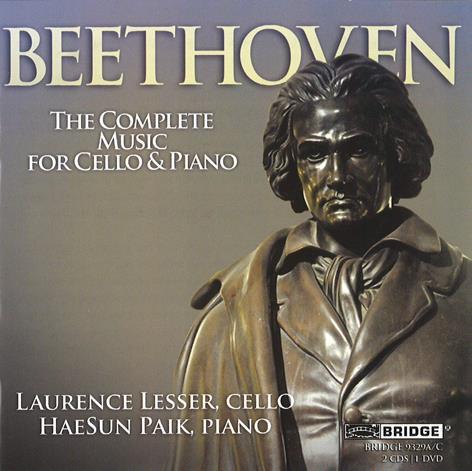 THE STRAD RECOMMENDS
The Strad Issue: January 2010
Musicians: Laurence Lesser (cello) HaeSun Paik (piano)
Composer: Beethoven
Beethoven's cello sonatas have not been especially lucky on disc. Some artists bring a furrowed-brow reverence to the table that leaves Beethoven's exuberant Classical textures feeling overweight and overwrought. Others broadside all thoughts of these being 'duo' sonatas with lashings of opulent tone that all but obliterates the vital piano part.
Full marks, then, to Laurence Lesser (now in his early 70s) and HaeSun Paik, who combine Classical grace with precision and play as a true partnership. By way of a curtain-raiser they present the three sets of variations first and immediately establish their credentials with playing that is vibrantly alive, yet retaining a post-Mozartian poise and elegance. From the moment Lesser announces the famous opening theme of the Handel Variations with due stateliness but with a twinkle in his eye, one feels in the safest of hands.
The long introductions to the two op.5 sonatas can seem interminable, yet here both artists musically intertwine with a naturalness that makes each phrase feel light as air. Particularly remarkable is Lesser's ability to make the cello 'speak' with unblemished focus and clarity at even the lowest dynamic levels. His winning combination of freshness and affection is tailor-made for the lyrically enchanting op.69 Sonata, but perhaps the greatest revelations arrive with the two op.102 sonatas, which are more Haydn-in-overdrive than Romantic premonition. The lucid, articulate yet atmospheric recording adds to this exceptional issue's considerable attractions, while a bonus DVD interweaving live performances with illuminating discussion provides the musical icing on the cake.


JULIAN HAYLOCK