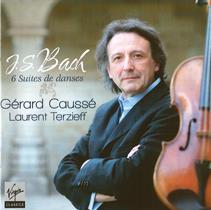 The Strad Issue: January 2012
Description: An unashamedly Romantic approach to Bach's solo suites
Musicians: Gérard Caussé (viola) Laurent Terzieff (speaker)
Composer: Bach & Rilke
In Rainer Maria Rilke's novel The Notebooks of Malte Laurids Brigge, the poet enumerates what it takes to write the first line of a poem (namely, everything that has happened in one's life) and concludes that only then might the first word arise from among one's remembrances. After Laurent Terzieff's serene rendering of these lines, the Prelude of Bach's G major Suite steals in in a moment of sheer magic. If the idea of alternating the Bach suites with readings of Rilke in French translation seems rather outlandish in prospect, in the event it makes for fascinating listening. The late actor's voice was capable of infinite nuances of colour and intensity, and the passages from Rilke's poems and novels have been astutely chosen. Of course, the readings can be left out and Bach's suites enjoyed on their own, but I am very grateful to Gérard Caussé for having brought to life what he calls his 'rêverie' of collaborating with Terzieff in this unique project.
As the juxtaposition with Rilke suggests, Caussé's Bach playing is unashamedly Romantic. Phrase after phrase pours forth from his Gasparo da Salò viola in readings that are somewhat short on dance-like characterisation (not, however, on rhythmic momentum), and concentrate on the music's rhetorical elements and overall structure. Rubato is sometimes taken to extremes, with Caussé lovingly taking his time over a spread chord or a lingering cadence, and there is a certain inconsistency regarding the execution of trills (from above, from the main note, or not at all). This is not Bach for period purists, but even they shouldn't miss out on these beautiful recordings. The sound quality and presentation are all they should be.
Carlos María Solare