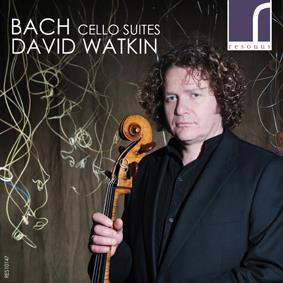 THE STRAD RECOMMENDS
The Strad Issue: August 2015
Description: Watkin chooses two cellos for a personal tour of Bach's Suites
Musicians: David Watkin (cello)
Composer: Bach
David Watkin doesn't make the Suites sound easy. He does, though, play them with a conversational intimacy that suggests how, over the years, they have become friends to feel at home with rather than teachers to consult or monuments to admire. The idea of implied harmony seems redundant when he finds so many voices in the notes Bach wrote.
The bowing of the D minor Courante is a small miracle of stopped and liquid articulation that creates the illusion of dancing partners, before they rest and talk of weighty matters in the Sarabande. There are stories everywhere, informed but not confined by theories of rhetoric or harried by a strict pulse: the gigues in particular confide and wonder, and rock back with the belly-laughs of a man comfortable in his own skin.
Watkin is always sensitive to the implications of keys. He brings ecclesiastical grandeur to the arching phrases of the E flat major Suite but digs in and frets over the dotted rhythms of the C minor Allemande. Tempos are generally spacious, and expand further into the most ornately French of all the Suites, in D major, for which he switches from his lovely Rugeri instrument to a Brothers Amati violoncello piccolo. The Resonus recording in a small Edinburgh chapel is a model of spacious clarity, and Watkin's own booklet notes are comprehensive and succinct. This is a very special disc.
Peter Quantrill