American violinist, 25, adds the Chinese accolade to a number of recent competition successes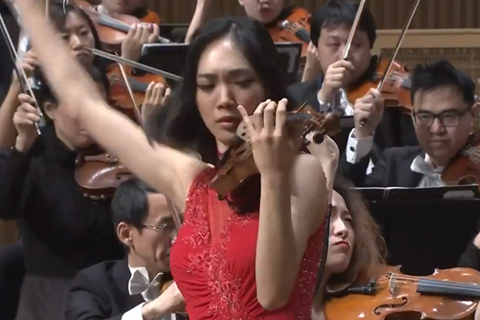 The International Music Competition Harbin, China, has announced the winners of its violin section, with American violinist Nancy Zhou taking the $50,000 top prize for her performance of the Sibelius concerto.
Second prize went to Kyumin Park (South Korea), third prize to Leonid Zhelezny (Russia) and fourth to Fang Lei Liu (China). They win $30,000, $20,000 and $10,000 respectively.
The violin competition, under the auspices of the Conservatory of Music in Harbin, the capital of the Heilongjiang province in north-eastern China, took place concurrently with piano and voice competitions, and requested applications from musicians between the ages of 20 and 34.
Through three rounds, including one dedicated to Mozart concertos, 30 violinists were whittled down to four for the finals on 23 and 24 January, each playing a concerto of their choice with the Shenzhen Symphony Orchestra under Hu Yongyan.
Zhou, from San Antonio, Texas, a recent graduate of Harvard, was taught violin by her father, as well as taking lessons with David Nadien at Mannes School of Music in New York and currently with Mirian Fried at the New England Conservatory in Boston. Since 2008 she has also been a scholar of the Anne-Sophie Mutter Foundation.
Her previous competition successes include first prize at the 2009 Johansen International Competition and the 2009 China International Violin Competition; second prize at the 2017 Isang Yun Competition; reaching the final of the 2010 and 2015 Sibelius International Violin Competition and winning its Rastor special award; as well as reaching the semi finals of the 2011 International Tchaikovsky Competition, the 2014 International Violin Competition of Indianapolis and the 2015 Joseph Joachim International Violin Competition.
See Nancy Zhou's full performance of the Sibelius Violin Concerto in the final here, and follow links to performances from the other finalists and earlier rounds