Instrument gifted to scientist in 1933 makes $516,500 at Bonhams in New York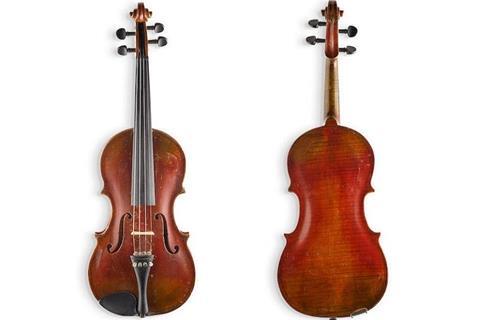 A violin once owned by Albert Einstein was sold for $516,500 (£373,551) at Bonhams auction house in New York on Friday 9 March, more than tripling its catalogue estimate of $100,000-$150,000.
The price is evidence of a strong appetite for Einstein memorabilia on the collectors' market rather than the value of the violin as a musical instrument.
It was given to Einstein, famously a music lover and keen amateur violinist, when he arrived in the United States. The Bonhams catalogue listing says:
'In October 1933, Einstein had just arrived in the U.S. to accept a post as a resident scholar at the Princeton Institute for Advance Study, escaping the worsening situation for Jewish intellectuals in Nazi Germany. As the one of the most prominent intellectuals of the time, his arrival was a cause for celebration in America.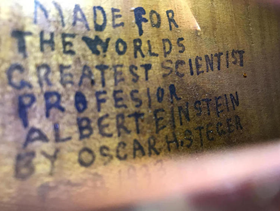 'Cabinet maker and member of the Harrisburg Symphony Orchestra Oscar H. Steger was moved to craft a violin, which he presented to the professor shortly after his arrival. The gift was covered in two Harrisburg newspapers of the time, on October 25th and 26th.'
The violin has an inscription inside which reads: 'Made for the Worlds[sic] Greatest Scientist Profesior[sic] Albert Einstein By Oscar H. Steger, Feb 1933 / Harrisburg, PA.'
The instrument was given by Einstein to the son of Princeton janitor Sylas Hibbs, who was learning the violin, and it has remained in the family since.
Photos: bonhams.com