The album by cellist and composer David Teie features five tracks 'scientifically proven to enrich the lives of cats'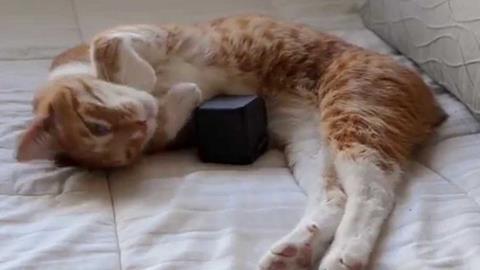 Cellist and composer David Teie's album of works designed for cats has topped Amazon UK's Classical Orchestral Music chart and is currently at number two in the UK iTunes Classical Music Albums chart.
'Music for Cats' features five tracks, each around ten minutes in length, which are 'scientifically proven to enrich the lives of cats and provide a calming influence for our feline friends'. The album was released on Universal Music last week following the success of a Kickstarter campaign, which raised hundreds of thousands of pounds and sold 10,000 records independently.
In 2008 Teie, a member of the National Symphony Orchestra in Washington, teamed with scientists at the University of Wisconsin to compose two works which elicited a positive response in 77 per cent of felines. These animals had demonstrated no perceptible reaction to 'human' music.
'Unlike humans, felines establish their sense of music outside of the womb, through sounds heard after they're born, like the chirping of birds, the sucking of milk, or the purring of their mother,' writes Teie. 'Using only musical instruments, I incorporated those sounds and their natural vocalisations into music and matched it to the frequency range they use to communicate. The reason harp notes play in rapid succession (23 per second!) is because that's the precise rate of a cat's purr'
A Universal spokesman told The Telegraph: 'We're thrilled to be part of this world-first project and break into the massive untapped market of non-human music fans. The possibilities are endless for more species-specific 'Music For' albums: dogs and horses could all be on the cards'.
See the effects of 'Music for Cats' below: