Former concertmaster John Georgiadis tells Julian Haylock his memories of the London Symphony Orchestra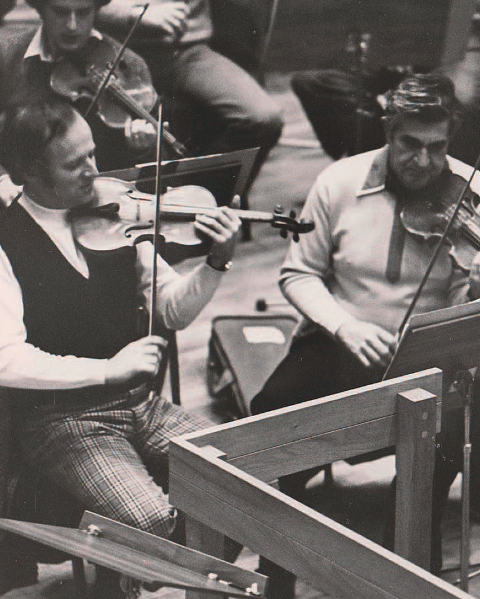 What special qualities make a good concertmaster?
To be aware of everything around you: first the violin section, then the string section and then the rest of the orchestra. Also to be sensitive to a conductor's needs (even if he or she isn't) and to try to stay one step ahead. You need to be able to play the violin adequately, but I feel it is a big mistake to choose a concertmaster just for their playing ability, which seems to be happening more often these days.
What was it like being part of such a popular cultural phenomenon as the London Symphony Orchestra (LSO) in the 1970s?
With the benefit of hindsight, André Previn's arrival on the scene was probably the best thing that could have happened to the LSO at that time. The orchestra's financial predicament was quickly resolved as everyone wanted a piece of our new, young American maestro, especially BBC Television, which promptly set up the series André Previn's Music Night. André's relaxed manner on TV endeared him to millions, many of whom would never have normally considered watching a classical music programme, and his appearance on The Morecambe and Wise Christmas Show was the icing on the cake. Initially he was relatively inexperienced as a classical conductor, but his technique improved over the years and he was a great promoter of English music. Best of all, he was a super guy to work with.
That said, behind the scenes his appointment was met initially with stunned silence by the members of the orchestra. We were told that 15 of the world's top conductors had turned down the post, for reasons ranging from lack of time to already having too many orchestras, to wanting the added kudos of a musical directorship rather than being merely principal conductor. At the time I was horrified, and I said so. We had done a couple of things with André and liked him. He was easy-going, very friendly, a quick learner and a very adept pianist with obvious musical qualities, but I felt at this stage in his career he wasn't nearly ready for such a position. So we began a relationship with someone who was so keen to do well in his new post that he agreed to allow musicians to help or even correct him during rehearsals. Of course, that was a recipe for chaos and couldn't go on for long as every Tom, Dick and Harry wanted to have their say. Happily things settled down, eventually.
How did you approach the everyday aspects of the job, such as bowings, orchestral discipline and auditions?
I think I can say objectively that I was pretty good at dealing with bowings, although I was helped enormously by the LSO's librarian at the time, Henry Greenwood. As an ex-violinist, he took it upon himself to put in all the basic bowings before working sessions, which left me with just the need to alter things occasionally during rehearsals. He was a gem!
I wasn't very good at controlling internal discipline, as the LSO in those days was a very boisterous, all-male machine – something akin to a hundred-strong rugby team – although I did my best under the circumstances. In any case, if there was a good conductor, then discipline was never a problem. I didn't mind having difficult people in the section – in fact I openly encouraged it, as long as they pulled their weight and produced the goods when the need arose. I found that they brought character to the section, which could end up being a very positive thing.
Auditions were a necessary chore, sometimes very interesting, sometimes a bore. But I thought I could recognise good orchestral potential when it emerged, and again I felt it was a mistake to choose someone purely because of their technical proficiency, without taking into account their musicality and general sense of awareness.
And conductors?
On the whole, I felt I could tell whether a conductor was any good within the first five minutes. I always got on well with the better conductors and couldn't do enough to help them. Names that spring to mind in this respect include Beecham, Fricsay, Barbirolli, Kertész, Szell, Ormandy, Abbado, Boult, Sargent and, of course, my mentor Celibidache. They all combined in their very different ways the essential qualities of sincerity, musicality, technique and how to deal with a large group of expert musicians.
How would you say today's standards of orchestral playing compare with those of half a century ago?
To us 'oldies', the orchestras of today seem fantastically well-oiled machines that play consistently to a very high level of accomplishment. And yet there was something about the old orchestras, full of outstanding individualists, that gave rise to exciting performances which were full of character, if not always technically immaculate.
But I must be careful of the 'good old days' syndrome. I remember a TV programme in the 1960s, when the composer Malcolm Arnold was asked exactly the same question while sitting in front of the LSO. He said, much to the disgust of the players present, 'Orchestras are not what they used to be – no character nowadays.' So I guess every generation remembers its time with affection.
Photo: Georgiadis in rehearsal with the LSO and conductor André Previn (Courtesy LSO Archive)
This article was first published in The Strad's April 2012 issue.