Tianjin Juilliard celebrated its first commencement ceremony on Friday, May 20 at the Tianjin Juilliard Concert Hall. Juilliard's president emeritus and chief China officer, Joseph W. Polisi, delivered the commencement address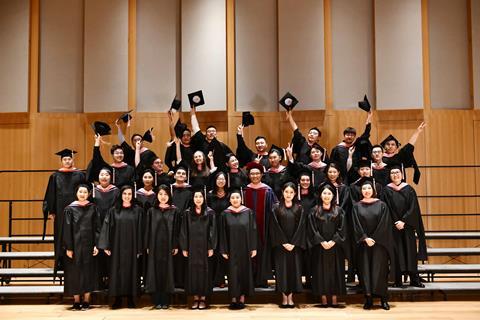 The inaugural class of 33 graduate students from eight countries received their Juilliard degrees from the first joint-venture performing arts institution in China to confer a US-accredited music degree.
The commencement ceremony featured performances by the students and faculty, including an arrangement of Edward Elgar's Pomp and Circumstance for brass quartet, the final movement of Antonín Dvořák's String Quartet in F Major, Op 96 performed by the MILA Quartet and Allegro from Jacques Ibert's Trois pièces brèves for wind quintet performed by resident faculty member Akio Koyama and graduating students.
Xu Wang, the vice mayor of the city of Tianjin, Chancellor Xu and Hongwei Wang, vice president of Tianjin Conservatory of Music congratulated the class of 2022 at the ceremony. Mr. Qin Gang, Ambassador of the People's Republic of China to the United States of America and Mr. Nicholas Burns, Ambassador of the United States of America to the People's Republic of China also sent their congratulatory messages to the graduates.
President Woetzel presented the President's Medal to Alexander Brose at the commencement ceremony. As the first Chief Executive Officer and Executive Director of The Tianjin Juilliard School, Brose played an instrumental role in helping to create and establish a clear direction for this unique musical institution, Juilliard's only branch campus in China, during his five-year tenure. Among many achievements, his groundbreaking work in Tianjin serves as an example of how cultural initiatives can bring the citizens of two countries together, to a better understanding of each other.
I am standing here today expressing my pride as a Tianjin Juilliard graduate, thanking the people who educated me, mentored me, and cared for me. We could not have accomplished any of this without being nurtured as curious, adventurous, and grateful young musicians.

With our minds' flooding with joyful and teary memories, I urge everyone to remember those values that made us who we are today. We are no longer Tianjin Juilliard graduate students. We have become Tianjin Juilliard alumni. The ability to bring our talents, our dedication, and our courage to the world is what we expect from ourselves as we leave this place.

I'd like to address the young musicians who are watching us graduate today. If you want to achieve more than the ordinary, start with making an extraordinary decision. Thank you all and congratulations.
Zhangjuan Liu, Student Representative Speaker
"The Juilliard School is honored to bestow the President's Medal upon Alexander Brose for his service to our School and to the art of music. You (Brose) successfully participated in recruiting a world-class faculty, enrolling talented music students from around the world for our graduate and pre-college programs, realized full academic accreditation for our branch campus, oversaw the design, construction, and completion of our extraordinary building in Binhai, and worked diligently to negotiate the many difficulties presented by the Covid pandemic," said Juilliard President Damian Woetzel.
The Juilliard President's Medal was established in 2005 to honor individuals who have made in indelible impact on society and serve as significant role models at Juilliard and in the broader community. The medal itself was created by renowned graphic designer Milton Glaser.