Buying a new instrument is as much about rigorous auditioning as it is about falling in love...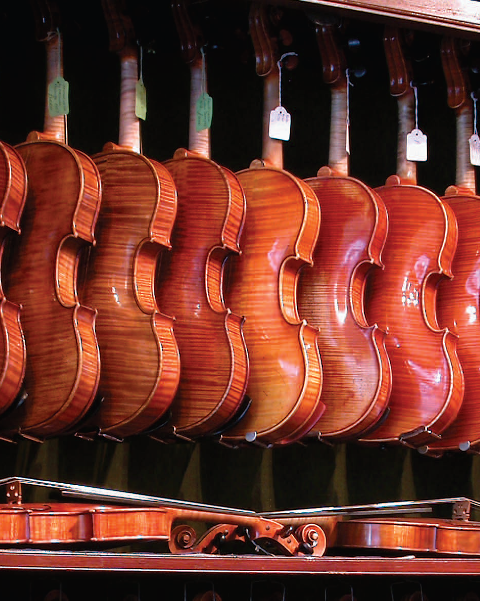 *Start with open strings. Listen as you tune, playing lightly.*Then use a variety of dynamics to listen to the open strings.
*Move on to a slow scale, from bottom to top, without vibrato.
*Play single and double-stop harmonics to test their ring and the clarity of voice.
The following excerpts from music in the repertoire can be played to highlight different qualities and deficiencies of the instruments that you are trying.
The list is by no means definitive or exhaustive. It has been compiled by several seasoned musicians who have had a great deal of experience in evaluating instruments. If you have a favourite piece that helps to illustrate a particular characteristic of an instrument, you should use that as well.
Violin
Tchaikovsky Violin Concerto, first movement, first two lines: reveals evenness of response across the strings

Mozart Violin Concerto no.5, second movement: listen for the changing colours
Bruch Violin Concerto in G minor: good for double and triple-stops

Paganini Moto perpetuo; Saint-Saëns Introduction and Rondo capriccioso: faster pieces can be used to check the instrument's response and physical comfort
Mendelssohn Violin Concerto, first movement: tests tone development and playability in fast passages
Viola
Schubert Arpeggione Sonata, opening
Bartók Viola Concerto, second movement
Bloch Suite (1919)
Brahms Songs for voice, viola and piano op.91, first song, first phrase
Beethoven String Quartet op.59 no.3 'Rasumovsky' and Walton Viola Concerto: faster music to test the instrument's response
Cello
Bach Suite no.1, Prelude: reveals evenness of response across the strings

Bach Suite no.3, Prelude: good for testing both legato and separate bows
Haydn Cello Concerto in C major, first movement: tests response and the liveliness of the sound
Brahms Cello Sonata in E minor: shows up the rich, deep, warm qualities of the instrument
Bloch Schelomo, opening: good for testing the A string
Lalo Cello Concerto and Elgar Cello Concerto: the openings test the solo qualities of the lower register
Strauss Don Quixote: tests response over the whole range
Saint-Saëns 'The Swan' and FauréÉlégie: legato shows up the beauty of the instrument's voice
Dvorák Cello Concerto: employs different registers and strokes
Davidoff At the Fountain and Weber–Piatigorsky Adagio and Rondo: faster pieces employ both spiccato and legato to test response
Double bass
Koussevitsky Double Bass Concerto: for sound projection and strong, lyrical playing
Eccles Sonata in G minor, second movement: for projection and clarity in the lower two octaves
Nanny Caprice no.1: for quickness of response
Dragonetti concertos: for harmonics
Three-octave scales: to test evenness of registers
Suggestions by Toby Appel, Matitiahu Braun, Gary Karr, Igor Scedrov and Jeffrey Solow
This article was first published as part of a larger feature in The Strad's March 2009 issue.Subscribe to The Strad or download our digital edition as part of a 30-day free trial. To purchase single issues click here.