The University of Michigan professor remembers his studies with two very different viola teachers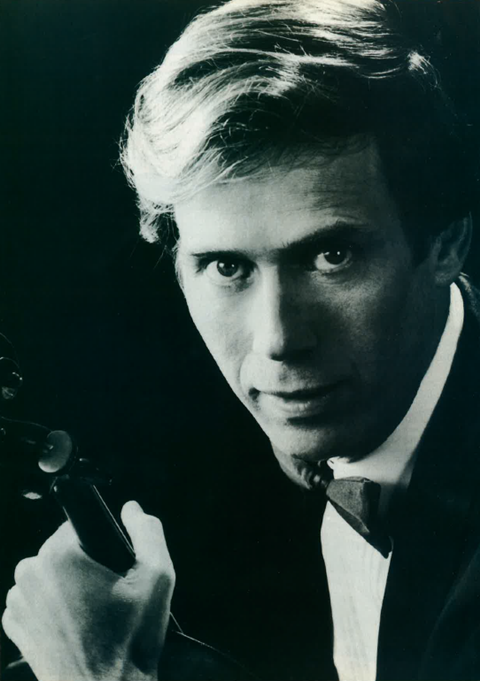 'When I was very young I was attracted to a gipsy fiddler in a café,' recalls Israeli-American violist Yizhak Schotten. But although he started violin lessons at nine, the turning point came when he was about 14. 'I heard Primrose on the radio and when I heard that viola sound, that was it.'
When a friend wanted to play for Primrose, Schotten was urged to go along too. 'I was studying in Israel with Heinrich Jacobi, who had been a pupil of Hindemith, and Mr Primrose said: "You play just like Hindemith.† I was really pleased until he added: "And I can't pay you a worse compliment.†' Nevertheless, Schotten was offered a scholarship at the University of Southern California, where Primrose was then teaching.
'Studying with him was rough,' recalls Schotten; 'He was very nice to me but he was also very professional and I was a bit undisciplined. Mr Primrose used to throw me out of the lesson if he thought I was unprepared. He made me so nervous, I couldn't vibrate! I once drove 90 miles to Santa Barbara and after a few minutes he said there was no point in having a lesson.' Yet again the dread spectre of Hindemith raised its head, too. 'I was so influenced by Primrose's playing that I listened to all his records. I brought the Hindemith Sonata op.11 no.4 to a lesson and played it with all my heart – and all my slides. Mr Primrose asked: "What are you doing that for?† I said: "I've been listening to your recording.† And he replied: "People don't play like this any more.''
But there were compensations. Primrose found a Jewish couple who were willing to sponsor Schotten. 'They wanted to remain anonymous but I thought I must meet them and they became like my American family.' There were also many things to be learnt from his irascible master. 'Primrose had maybe the best bow arm in the business and I remember him playing his incredible spiccato.' In 1965 Schotten went with Primrose to Indiana University and spent a further year studying with him and playing in the local orchestra, followed by a summer's study at the Aspen Music School in Colorado.
From 1966 to 1969 Schotten attended the Manhattan School of Music in New York, where his teacher was Lillian Fuchs. 'She was tiny but she had so much energy; and her arm was so extended that she managed to play so well.' Indeed Fuchs's recordings – mainly from the 1950s and often with her violinist brother Joseph – document one of the finest American players of the century. Schotten found her very different from Primrose. 'In a way Miss Fuchs picked up the pieces. She was more nurturing and very detailed, very much the kind of teacher who spoon-feeds you and gives you the fingering for every note. She would tell you where to slide and where not to slide and so on. I was very dependent on her She would say: "Boy, move this arm!† She liked Tubbs bows, and sometimes she would hit you with her bow – she told me that she broke one of her good bows on one of her students.'
While he was a pupil of Fuchs, Schotten played in the Pittsburgh Symphony Orchestra and, from 1967, the Boston Symphony Orchestra. For the 1970-77 season he was associate principal of the Japanese Philharmonic Orchestra in Tokyo and did some radio broadcasts. After a spell back in the Boston Symphony Orchestra, he went to the Cincinnati Symphony Orchestra as principal in 1973, switching to the Cincinnati Chamber Orchestra in 1976 and staying there until 1979. During his years with the Cincinnati CO he was a member of the Trio d'Accordo, with the violinist Jorja Fleezanis (the first female leader of the Minnesota Symphony Orchestra) and the cellist Karen André; in 1978 they won the Concert Artists' Guild International Chamber Music Competition in New York. His last orchestral job was as principal in the Houston Symphony Orchestra from 1983 to 1985. Since then he has been known as a soloist and a teacher, although he would probably look upon himself as a teacher first and a soloist second, because he takes his pedagogical duties very seriously.
Schotten began teaching in 1967 with a summer job at the Eastern Music Festival at Greensboro, North Carolina. From 1977 he began having fairly regular summer commitments and from 1979 to 1983 he taught full-time at the University of Washington in Seattle. From there he moved to Rice University in Houston, Texas and in l985 he took the post he still holds at the University of Michigan in Ann Arbor. In addition he has spent a year as visiting professor at the Carnegie-Mellon University in Pittsburgh.
Does he teach the methods of his own great teachers? 'I do, but obviously I have been developing my own ideas over the years. I think that with Primrose it was especially the sound that impressed me, but a lot of my right-hand technique came from him and I teach it.' Schotten is interested to find, however that other Primrose pupils differ slightly from him in applying their bow technique and in passing it on to their pupils.
As for Miss Fuchs, I think I got the sound from her, too. She played more in the lower part of the bow. Many people play at the tip a lot; it works in the upper strings but it is not so good in the lower register. In the lower strings the viola is closer to the cello and I tell my students to use the lower part of the bow because the sound is clearer and more focused that way.'
When Schotten was an orchestral player he found that this idea sometimes brought him into conflict with his colleagues, but now he is free to do his own thing. 'I teach a lot of technique,' he says, 'because I feel a lot of the students who come to study with me at college level are not taught well. I have a repertoire class and a technical class and I make all my students play scales.' At the same time, Schotten does not allow them to become overdependent on him, as he was on Fuchs. 'I never give my students fingerings at the beginning. The teacher should teach the student to be as independent as possible.' He is mindful that a fingering which works for one may not work for another and that it is possible to waste hours working on unsuitable fingerings. He finds that he is still discovering new fingerings for himself, too.
Interview by Tully Potter
This article was first published in The Strad's January 1998 issue. Subscribe to The Strad or download our digital edition as part of a 30-day free trial. To purchase single issues click here.