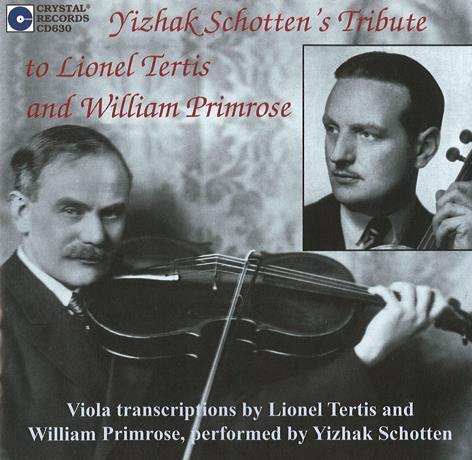 The Strad Issue: January 2011
Musicians: Yizhak Schotten (viola) Katherine Collier (piano)
Composer: Haydn, Liszt, C.P.E. Bach, J.S. Bach, Paganini, Fauré, Rameau–Kreisler, Mendelssohn, Boccherini, Schubert, A. Benjamin, Brahms, Grieg, Kreisler & Saint-Saëns
Lionel Tertis and William Primrose were the two most influential pioneers of modern viola playing, and a recording that pays them homage is always welcome. Yizhak Schotten was a Primrose protégé and thus has a personal connection with this repertoire. Although it was Primrose's sound rather than his virtuosity that most impressed Schotten as a student, almost all the transcriptions by the great Scot included here are of the virtuoso kind, not least the Paganini Caprices nos.5 and 13 (Primrose's own debut recording as a violist), that include small but effective amendments to the original violin part. If the spiccato of no.5 doesn't quite have the jaw-dropping perfection of Primrose's own recording, the teasing glissandos of no.13 ('The Devil's Laugh') are absolutely enchanting.
I was disappointed that just the finale of Haydn's Divertimento in D major and the Allegro from Boccherini's Sonata in A major are included (there would have been room for the other movements), but they compare well with Primrose's renditions. The Tertis transcriptions are mostly of songs – Liszt's Liebestraum, Brahms's Minnelied and Grieg's I love you among them – and show off beautifully Schotten's dark, masculine sound. With typically informative annotation by Tully Potter and truthful recorded sound (Schotten here wearing his recording engineer cap), this CD is a self-recommendation for everyone interested in the history of the viola.
Carlos María Solare