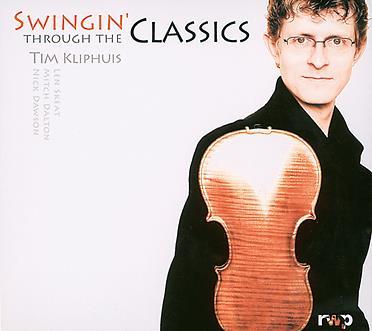 The Strad Issue: January 2008
Musicians: Tim Kliphuis (violin) Len Skeat (double bass) Mitch Dalton (guitars) Nick Dawson (piano)
Composer: Fauré, Dvorák, Chopin, Liszt, Tárrega, Grieg, Schumann, Mendelssohn, Brahms, Mozart, Schubert & Tchaikovsky (arr. Kliphuis)
This album is much better than its title suggests. Rather than serving tritely souped-up, clunky crossovers, Tim Kliphuis and co deliver intelligent but never over-complicated reworkings of Romantic favourites.
The influence of Grappelli is writ large. Kliphuis's swing is impressively stylised, garrulous but well shaped and full of the joie de vivre of the Left Bank. Liszt's Liebestraum is full of panache and portamento, while a Chopin prelude is rendered swooning and sultry. Warmth is added in these more lyrical moments by using higher positions on the lower strings, but the presence of the violin is never compromised thanks to a close microphone and a generous mix level. Rubato and harmonic enrichment are used sensitively, enhancing the transition into jazz without completely subsuming the character of the originals. If the result is occasionally contrived (as in the Mozart-derived Tony's Tune), it is more often effective: Kliphuis adds melodic embellishment, for example, that is subtly chromatic for the Chopin, and flashily arpeggiated for the Liszt, doffing his cap to each composer while stamping more recent musical language on their music.
The rest of the group supports well. An unusually unpercussive samba bass line in Tárrega's Samba de la Alhambra is indicative of Len Skeat's modesty, while Mitch Dalton shines in Schubert's Ave Maria, ad-libbing the accompaniment, sensibly avoiding the original moto perpetuo for this more spontaneous, secular setting. Nick Dawson swaggers when given the chance, but has the classical technique to straddle the twin musical influences on the group. As John Dankworth's booklet introduction says, this jazz is 'ear-caressing' not 'mind-bending' – but this is real, stylish music rather than a commercial sham.
Chris Elcombe