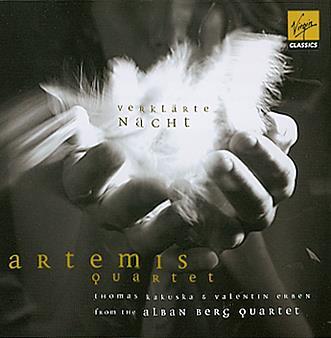 The Strad Issue: January 2006
Musicians: Artemis Quartet, Thomas Kakuska (viola) Valentin Erben (cello)
Composer: Strauss, Berg, Schönberg
In this unusual programme of late-Romantic string sextets recorded in 2002, the Berlin-based Artemis Quartet collaborates with cellist Valentin Erben and violist Thomas Kakuska of the Alban Berg Quartet, one of its numerous mentor-ensembles. The disc is dedicated to the memory of Kakuska, who died last year.
These players overcome a dry studio acoustic to produce a powerful, highly charged and compelling account of Schoenberg's Verklärte Nacht. They underline the Impressionistic qualities and sombre dark hues of the score and bring out some clear parallels between the composer's music and Dehmel's poetry in this performance of strong contrast (both in dynamic range and dramatic character) and high intensity and emotional temperature. The Artemis Quartet's members emerge from this interpretation with special credit, particularly cellist Eckart Runge and violist Volker Jacobsen, who contribute some luscious, rich sonorities, but not forgetting leader Natalia Prischepenko.
Regrettably, some audible 'breathing with the phrase' distracts, especially throughout the atmospheric opening section.
The remainder of the programme comprises two interesting rarities. A resourceful and dramatic arrangement of Berg's single-movement Piano Sonata op.1 for string sextet by the Artemis Quartet's second violinist, Heime Müller, captures every detail of the score and displays it in a completely new light. Individual voices within the polyphonic structure are more easily identifiable in this version, which is realised with musical intelligence, passion and conviction. A fervent, yet well-shaped account of the ravishing autumnal introduction to Strauss's operatic swansong Capriccio provides the starter for this 51-minute feast of music making of the highest artistry.
ROBIN STOWELL