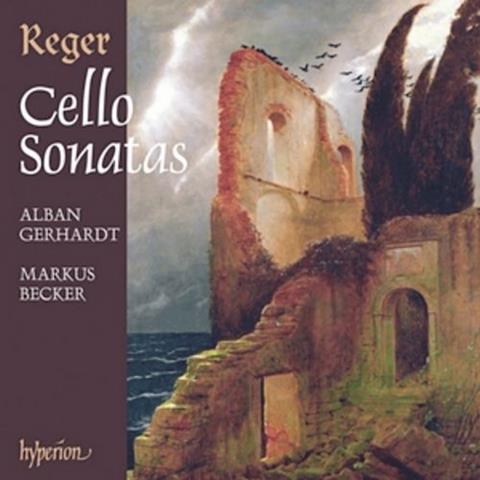 The Strad Issue: January 2008
Musicians: Alban Gerhardt (cello) Markus Becker (piano)
Composer: Reger
German duo Alban Gerhardt and Markus Becker have been steeping themselves in the music of their often sidelined countryman Max Reger. Their mission? To release the seemingly impenetrable scores, overladen with markings, and make Reger's music soar.
The ghosts of Bach and Brahms hover over the suites and sonatas respectively. By the F major Sonata no.3 Reger is beginning to shed the Brahmsian mantle, though like Brahms's sonata in the same key it opens turbulently. Gerhardt and Becker are fully caught up in the initial whirlwind, and there is lovely, transparent playing of the second subject from Gerhardt, who employs an intense, focused tone with rapid vibrato for the movement's less peaceful moments. Gerhardt's 1711 Gofriller cello sings out in the Andante con variazioni, especially in the expressive fifth variation, but for much of the time in these early sonatas, piano textures are often so dense that the cello struggles to penetrate them.
Sonata no. 4 is even more original, and the balance is better. The impressively rapid pizzicatos of the Presto show Reger capable of humour in spite of his stolid image, and the duo play the Largo movement with deep feeling and eloquent and tender longing.
With the three suites of 1914, from the very end of Reger's life, Gerhardt makes his first return on disc to unaccompanied repertoire since his 2004 recording on Oehms. These make very rewarding listening. High double-stops slurred in drooping pairs are a particular Reger hallmark in these works; the shift is always fluid, and their tone glows in Gerhardt's hands. In his interpretation of the Fuge of Suite no.1 the three repeated notes of the fugue subject appear in a whole range of characters, and his bow flies deftly around the instrument in the Scherzo of no.3. The recorded ambience is rather dry, with the instruments closely miked.
JANET BANKS