In early May, violinist Patricia Kopatchinskaja and cellist Sol Gabetta premiered Akin, a new double concerto written for them by Michel van der Aa. Pwyll ap Siôn attended this performance, in Cologne, Germany, and spoke to composer and soloists about bringing the work to the stage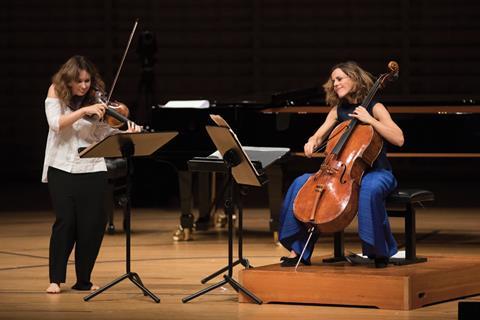 It's the morning after the night before, and a hushed conversation is taking place in the far corner of a breakfast lounge in a hotel around the corner from Cologne's famous cathedral. I'm in the company of Argentinian cellist Sol Gabetta and Moldovan-born violinist Patricia Kopatchinskaja. Other than the occasional tinkling of spoons against teacups, the room is quiet. Very quiet. We exchange sentences in fake whispers. I feel as if I'm privy to some kind of strange conspiratorial plot to take over the classical music world…
It's all a far cry from the ending of Dutch composer Michel van der Aa's double concerto Akin (2018–19), which received its premiere the night before (9 May) at Cologne's Philharmonie. Sitting at the table with Gabetta and Kopatchinskaja – the two soloists for whom it was written – I can't get the image of that ending out of my mind.
Like a slowly simmering pressure cooker, Van der Aa's concerto gradually builds in energy, speed and intensity until there's nowhere for it to go. Inexorably swept along by ever growing waves of sound, the music teeters on the edge of chaos. So immersed and involved have they become in the musical characters they represent that the two soloists seem caught up in a frantic world all of their own. As the music reaches its final crescendo, Kopatchinskaja pirouettes towards Gabetta in a single motion, and they stare at each other, face to face, for the first time. There's real friction in the air, charged by Van der Aa's explosive ending and the musical electricity generated by these two brilliant performers, backed by conductor Peter Eötvös and the Royal Concertgebouw Orchestra. Frozen in time for a split second, the two soloists suddenly ease off into a smile. We're back in the real world. The concerto has ended.
In the breakfast lounge, I recap this extraordinary ending with Gabetta and Kopatchinskaja. The violinist muses on the moment: 'Michel was very happy at the end of the performance because it felt like a rock concert. That's what he wanted. That's what we did.'
Rock concert or not, without the forceful presence of these two brilliant performers the ending would never have worked in quite the same way. Gabetta and Kopatchinskaja have forged a kind of telepathic relationship whereby they don't even have to look at one another, sensing each other's presence through the music.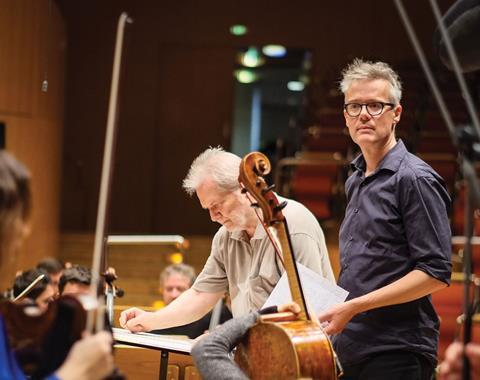 Composers have, of course, routinely written with specific performers in mind, but Van der Aa has taken this to a new level. When I ask him about this, between rehearsals of the new concerto, he states: 'It's really a metaphor for inspiration. It's about finding the muse to write a piece. I try to write well for the instrument and I love it when other performers play my music too. But for me to get to that point where I can start a new work, I need to be writing for a particular person' – or 'persons' in this case.
How has this idea of writing for people rather than their instruments influenced Van der Aa's music? Most obviously, the music's physical, visceral and theatrical attributes stem from Van der Aa's ability to project an image of the performance in his imagination: 'I close my eyes and envision the performers there, on stage, playing together. The theatrical consequence of the music I write is very important to me. The visual consequence of the musical notes is always in my mind. I somehow try to feel how they will play the music.' The intense, psychological undertow that seeps through much of Van der Aa's music also stems from his exploration of people and personalities. As far as he is concerned, you can't disentangle the notes on the page from their physical coming-into-being through performance.
So could Van der Aa have envisioned the ending of his double concerto in exactly the way it was experienced at the premiere? Of course not. The moment of performance is subject to a complex and often unpredictable set of circumstances. No one can really foresee what will actually happen. Every performance is different. What's more, the final call will always be with the performer.
When I put this to the soloists, Kopatchinskaja responds with a perfunctory, 'We're happy to serve the score.' But Gabetta expands with, 'Pat is right. We're serving the music, but – and I think this is why it is interesting and why it is different to play modern music – we also have the chance to work with the person who wrote it. So, for me, what's important is that sometimes we have to come up against the composer if we have an idea about the piece. Not to fight, obviously; not to try to win a victory. The question is more about the interpretation of the music. It can be interpreted in different ways, and this is what makes it interesting. We're actually talking about interpreters rather than artists.'
There are certainly creative synergies that really work, while other collaborations are less successful. Both Gabetta and Kopatchinskaja have previous experiences of performing Van der Aa's music, Gabetta most memorably in Up-Close (2010), a multimedia piece for solo cello, string ensemble, electronics and video which he wrote for the cellist, who premiered and recorded it in 2011. Armed with her experience of Up-Close, Gabetta felt she could embrace the new work with more confidence: 'The first time I worked with Michel he was very definite about what he wanted. This time I was more willing to say what was musically possible.' As for Kopatchinskaja, in 2002 she played Van der Aa's Double (1997) for violin and piano.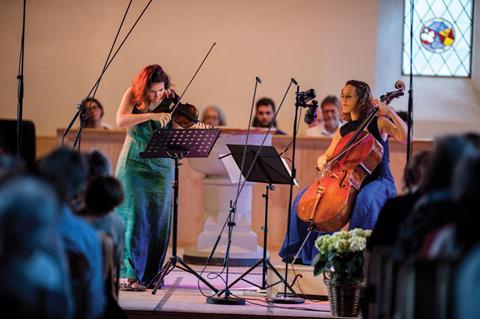 Gabetta and Kopatchinskaja's musical journey goes quite far back. Gabetta explains: 'When I met Pat for the first time it was in a trio concert. We were both very young. It was over 15 years ago. But I think something happened between us from the very beginning, you know? I knew from that moment that we would have a way together.'
As we chat over breakfast, it's clear that they possess very different personalities. Even at 9am, after the previous day's exhausting travel, rehearsal and performance, Gabetta is open, outgoing and willing to engage readily in discussion. She clearly likes to be in the company of people. Kopatchinskaja's enigmatic, withdrawn responses point to a wilful character, which has marked her out as something of a maverick in the classical music world. Beneath the defiance, one detects a certain vulnerability and fragility, however. She herself admits, 'Because of my – how do you say it – extreme nature, people who invite me to play now know who I am. They are not surprised any more…'
Gabetta immediately leaps to her colleague's defence: 'Can I say something? These "extremities" are' – and she exaggeratedly emphasises each syllable of the next word – 'unbelievable. How Pat organises her schedule, how she practises. The extremity she has is fantastic and incredible. In that moment in the concert when you need her, she's there.'
Van der Aa picked up on their differing characters when writing the double concerto. 'Sol is a certain type of player and Patricia is another type of player. I found that out especially during those sections in the concerto where they finish each other's phrases or lines. It actually turned out to be quite difficult for them to share those lines, because they have such different ways of playing. Each has such a different tone and temperament.'
Whereas Gabetta's understanding of standard repertoire has come from within the cello world (as a consequence of her ability to shape her own voice out of an understanding of that of other cellists), Kopatchinskaja seems to have gatecrashed the classical music community with performances that are completely off the radar. Her visionary accounts of violin concertos have elicited a wide range of wildly differing responses, from rapture to revulsion, although few would doubt her superb technical skill and musicianship as a performer.
Kopatchinskaja possesses that rare gift of being able somehow to transmute the very physical dimensions of the instrument she plays. One is reminded in her performances of truly unique musicians such as pianist Glenn Gould or electric guitarist Jimi Hendrix. The difference with Kopatchinskaja, however, is that she has made her mark on such an incredibly wide repertoire, ranging from folk and early music to duets with turntable artists and championing hardcore avant-garde music. It's a quality that Van der Aa admires in both musicians. 'Patricia is truly a musician of the 21st century. She's very open-minded, less bothered about genre boundaries.'
For Kopatchinskaja, music is music. When I quiz her about the importance of the instrument she plays (an 1834 Giovanni Francesco Pressenda), she bats away my question. 'The instrument doesn't have anything to do with your sound, your articulation, your character. Sometimes I enjoy listening more to a gypsy musician playing on a piece of junk on the street than a star violinist playing on a Strad on the stage. Why? Because I'm not bored by listening to him. He has something to say and is an individual. Folk musicians adapt to the violin. They have a kind of Baroque way of playing. Finding yourself. Being comfortable. And then expressing yourself. It's not about "doing the right thing" and being important.'
The differences between Gabetta and Kopatchinskaja are not simply based on extrovert- and introvert-style dualities, however. Gabetta's own technical approach to the cello is nothing short of revolutionary: she has developed a technique that places the left hand in a state of continuously suspended animation, allowing her to impart a much wider dynamic and timbral range to her playing. It may well be the case that future cellists begin to adopt her technique.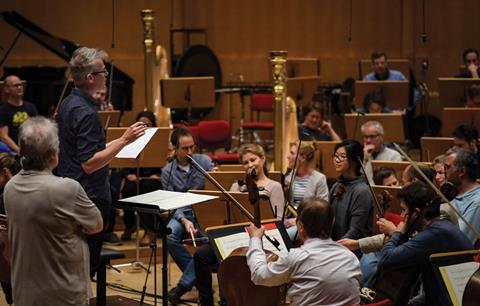 Both Gabetta and Kopatchinskaja, however, balance smooth lines and lyricism with power and aggression in their playing. Mixing these elements is key to interpreting not only Van der Aa's music but also a whole host of other contemporary music. As the title – Akin – of his double concerto suggests, the composer was drawn to the image of identical twins, 'inseparable and thinking in a related manner to all outward appearances but perhaps with different personalities beneath', as he describes in his notes on the work. The music's split personality revolves around the soloists' and orchestra's ability to make extremely rapid split-second adjustments. Van der Aa explains: 'In this schizophrenic situation, two very different types of music are happening at the same time. A quiet, lyrical passage may – at the blink of an eye – flip over into this epic outburst. There's no preparation for it in the music. It happens instantaneously. They're like those hard cuts you get in film montages. I've tried to translate that effect into the music. Sol and Patricia worked on these techniques during rehearsals and they're both really good at it.'
This chameleon-like ability to adapt should form part of every young classical musician's armoury. When I suggest that the secret to a successful career lies in an the propensity to combine 'old' values – such as discipline and dedication – with a willingness to think creatively outside the box, Gabetta leans forward in her chair: 'It's not just about classical music – it's about everything that you do in your life. If you're passionate, and you have discipline, and you work hard, this doesn't automatically mean that you will create something special, because you also need talent and you also need chances. It's the same in all the work you do in your life. But I think one of the most important things is to be passionate, then to be talented and to work hard. And then, it's the chances you take in life.'
We both look at Kopatchinskaja for a response. She pauses. 'You need everything,' she says. 'Everything. And then, it's a question of what you do with it. And actually, it doesn't matter if you don't have everything, because nobody has everything. But you need the ingredients to cook your own thing. When I play with Sol, for example, we rehearse as much as we need in order to organise the notes, and then we go on stage, where I know that we have a freedom that allows us to be creative and spontaneous in every single moment. We feel each other's breath and emotions. You know, just like friends feel for each other. And in that concert moment I trust one hundred per cent that we'll be together and neither of us would let the other fall down and drop. And with this incredible human being (on stage, as in life), with this trust, you can try to reach for the stars, and hope for miracles…'
'That's beautiful,' says Gabetta.