Queen Victoria's demise on 22 January prompts a reflection on the number of female violinists in the era she presided over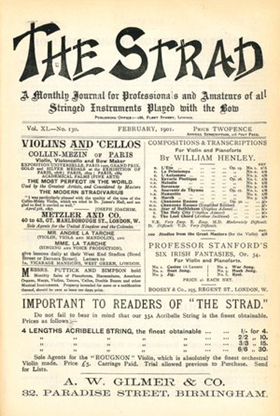 It is with feelings of greatest possible regret, that we record here the death of H.M. QUEEN VICTORIA. The personal element was so strong in Her late Majesty that all English folk must feel that someone more than a great Queen is dead, someone who seemed to be in touch with their daily lives, in sympathy with their joys and sorrows. How under Her glorious reign we Britons have prospered as a race and gown as a nation, how Art and Science have been encouraged this is not the time or the place to say. There is none of us but has some happy memory of a kindly deed, a kindly smile, a graceful act of Her Majesty, the sublimation of Kindness and Sympathy. She is gone to Her long rest, beloved and regretted by millions on millions of people of all races, creeds and colours.
MAY SHE REST IN PEACE
I wonder if any readers of THE STRAD there be who first saw the light of day in the Eighteenth Century! Is there any violinist living who has been in this vale of tears over one hundred years? How very interesting the reminiscences of such an one would be. For a little thought shows how enormous is the mass of "great" violinists of the Nineteenth Century––how comparatively poor that of the previous Century. Paganini, it is true, was a kind of connecting link between the centuries for he was born in 1782. But he had only passed temporarily from a state of pupillage as the clock struck 1800, and after his first artistic tour in 1789 he withdrew into private life again and did not begin his real career until 1805.
But almost more "era-marking" in the history of Time than the larger number of great male violinists in the Nineteenth Century than in the Eighteenth, was the rise and progress of the female violinist. For the moment I cannot recollect the name of her whom history describes as the first (chronologically) female violinist. But I think I am right in saying that there was none of the sex in the Eighteenth Century. Later there came the two sisters Milanollo, born respectively in 1827 and 1832; Teresina Tua; poor Arma Senkrah, the details of whose awfully tragic life and death are fresh in the minds of us all ; Mme. Norman-Néruda (Lady Hallé), Marie Soldat, Gabriele Wietrowitz, and scores on scores of others.
What this century has in store for us, God alone knows. Certainly it has opened darkly enough, with storms, wars, rumours of wars––clouds in fact on the whole of the horizon do not tend to promote the artistic interest. And it may be that the years must pass ere settled peace throughout the world brings men's minds back to that state of quiet enthusiasm which alone makes for musical salvation.
From the Archive: January 1900
1

2

3

Currently reading

From the Archive: February 1901

4

5