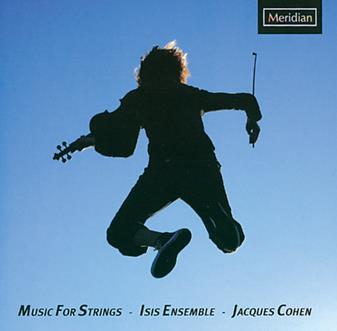 The Strad Issue: January 2008
Musicians: Isis Ensemble, Jacques Cohen (conductor)
Composer: Kriwaczek, Cohen, Cuéllar, Musorgsky–Cohen, Arnold–Steptoe & A. & R. Panufnik
It is customary to put the encore at the end. On this CD it comes at the beginning, with Rohan Kriwaczek's Bee Sting Dance in Rohan's Kitchen, a wild five-minute romp, which incidentally establishes the virtuosity of the Isis Ensemble. There is no explanation here of how the CD was compiled: perhaps it is just to showcase the ensemble and its conductor, composer and arranger Jacques Cohen. The ensemble is certainly impressive. There is a powerful undercurrent of energy in even the quietest sections of Cohen's Yigdal, a fantasia on a traditional Jewish theme. This is an intense and sombre piece, to which the ensemble brings an almost vocal passion, with some fine solo playing.
Salomón Cuéllar, who was born in 1990 and is currently studying at Dulwich College in London, must be more than happy with the crisp and sensitive performance of his Suite for strings, full of vitality and subtle melodic shaping. The other original work here is the Modlitwa (Prayer), left incomplete by Andrzej Panufnik when he died in 1991 and completed by his daughter Roxanna. Originally a vocal piece, it was arranged for string orchestra by Roxanna especially for this recording. The orchestra responds to its sad, meditative nature with gentle playing, imbued with warmth and restraint. Malcolm Arnold's Variations on a Ukrainian Folksong, originally for piano and arranged by Roger Steptoe with the composer's blessing, gives the orchestra its greatest workout, with a multitude of vivid colours and virtuosic flourishes, which it dispatches with aplomb. [needs comment on recorded sound]
Tim Homfray