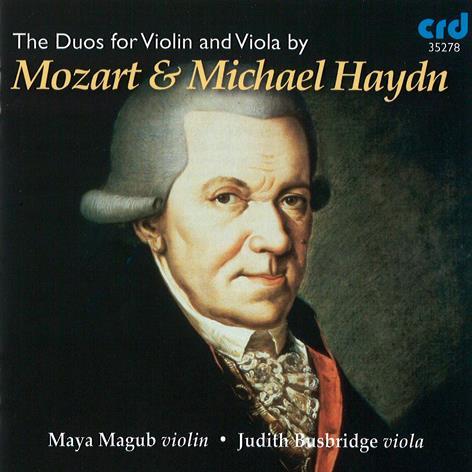 The Strad Issue: January 2011
Musicians: Maya Magub (violin) Judith Busbridge (viola)
Composer: Mozart, Michael Haydn
These works are inextricably linked in history. Mozart 'ghostwrote' his two duos as a favour to Michael Haydn, who, due to illness, would otherwise have been unable to complete a commissioned set of six. Maya Magub and Judith Busbridge are persuasive advocates of these works, even if Michael Haydn's have their longueurs and pale somewhat in comparison with those of his friend.
Magub is the dominant melodic voice in Michael Haydn's duos, but Busbridge occasionally has her moments in the spotlight, taking a turn with the rondo theme of P127 and the fourth variation of the finale of P130. Both play with substantial accuracy and sonorous tone and they indulge in some pleasing rubato, adding further interest in particular to Michael Haydn's melodically complex, if tonally unadventurous slow movements. Their accounts of Mozart's works combine energy, insight, warmth and affection; they are characterised by a lively reciprocity, most notably in the Allegro of K423 and the finale of K424, with Busbridge especially contributing some sonorous, cultured playing full of idiomatic nuance. Although these performances are not without blemish, they will provide healthy competition in the market-place, even for those recorded by more celebrated duos. CRD's recorded sound, presentation and production are exemplary.


ROBIN STOWELL