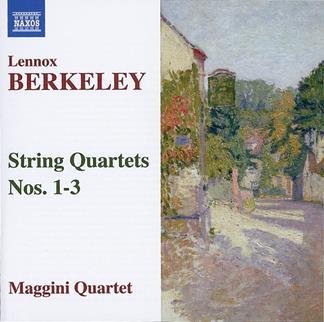 The Strad Issue: January 2008
Musicians: Maggini Quartet
Composer: L. Berkeley
I've been a fan of violinist Lorraine McAslan since she first burst upon the scene with a stunning 1989 account of the Britten concerto for the now defunct Collins Classics label (reissued on Naxos 8.557198), so it was with no small amount of anticipation that I received this, her first recording as leader of the Maggini Quartet. It's early days, of course, but already one senses a subtle change in the ensemble's style of projection, which fully retains its trademark chamber-scale intimacy and meticulous internal balance while possessing a more individual and spontaneous interpretative profile. This is particularly evident in the early First String Quartet (1935), whose Bartók-like expressive changeability is relished by the Maggini players, especially during the bracingly inventive theme and variations finale. Every stylistic aside, from Hindemith to Stravinsky, is brought vividly to life – indeed such is the Maggini's control of atmosphere and exemplary technical command that it is difficult to imagine it being played any better.
Although the Second String Quartet dates from just six (historically momentous) years later, Berkeley's individual creative personality had by now emerged from the late 1920s Parisian melting pot. The haunting central Lento appears to fuse the more elegiac of Britten's Frank Bridge variations with the slow movement of Debussy's Quartet (the Scherzo of Berkeley's Third Quartet is also indebted to the Frenchman), yet speaks with a powerful emotional sincerity all its own. Here and throughout the bracingly inventive Third Quartet (1970) the Maggini's playing is beyond reproach, with spotless intonation despite the unfamiliar, chromatically flavoured harmonic idiom. The engineering is as lucid and atmospheric as the playing itself.
JULIAN HAYLOCK