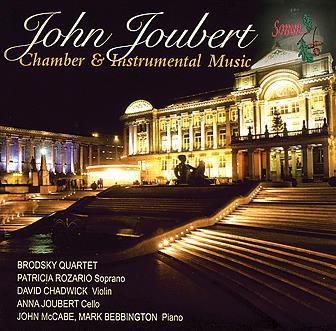 The Strad Issue: January 2007
Musicians: Brodsky Quartet*, David Chadwick (violin)† ‡ Anna Joubert (cello)† ‡ Patricia Rozario (soprano)† Mark Bebbington (piano)† ¶ John McCabe (piano)
Composer: Joubert
John Joubert, 80 this year, is one of British music's unsung giants; this double disc of chamber and instrumental music makes a richly deserved, overdue tribute.
The masterpiece here is the magnificent Second Quartet (1977). Joubert's dogged exploration throughout of the angular motto theme ('Muss es sein?') from Beethoven's op.135 Quartet in F major is approached with real understanding by the Brodsky players, whose deep insight and mastery of finer detail render this taut, probing work as riveting as Shostakovich.
The expansive melody in the jaunty Vivace movement of Joubert's Piano Trio (1986) is beautifully managed by both strings, and violinist David Chadwick (offset by lush piano chordings) brings warmth to the tender upper line in the substantial final Passacaglia. The sensitive cellist is the composer's daughter, Anna, who produces warmly expressive timbres from an English instrument of 1768 by Thomas Tilley.
In Landscapes, five pithy songs lamenting the destruction of rural peace by 'progress', the composer's delicate writing for piano trio (especially in the Spender and Hardy poems) magically offsets the soprano: again one notes the composer's deep devotion to Shostakovich. Joubert's fellow-composer John McCabe performs the three piano sonatas with such incisive flair that they alone make this set, with its warm, quite reverberant acoustic, well worth having.
Roderic Dunnett