The University of Music and Performing Arts Graz, Institute of Strings, is offering a position tentatively beginning with the winter semester 2021/22 for a University Professorship for Violin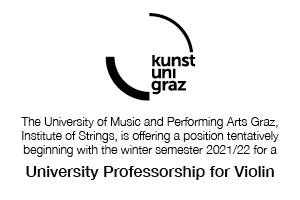 Based on § 99 of the Universities Act and § 25 of the collective agreement for university employees, in the form of a full-time contractual position, limited to 5 years. An extension of the position is only allowed after complying with the appointment procedure according to § 98 of the university law. It is possible to agree to an overpayment of the minimum monthly contractual salary, which has been determined by the collective agreement and which at present is € 5,245.60 gross (14 payments annually).
Task areas
• teaching particularly in the main artistic subject Violin
• responsible representation and promotion of the field in its entirety, especially in the arts-based research
• active participation in the further development of the university's teaching culture and artistic and scholarly life as well as active contribution to the university's academic self-administration
• participation in organisational, administrative and evaluation duties.
Basic Employment Requirements
• a degree from an Austrian or comparable foreign educational institute that suits the position, or an equivalent artistic aptitude
• substantiated skills and/or experience in dealing with gender and diversity.
Specific Employment Requirements
• outstanding personality with the highest artistic qualification for the position to be filled, also in the area of solo performance
• excellent international artistic career as a soloist and chamber musician
• comprehensive experience with musical styles
• documented experience in teaching at a postsecondary level as well as proof of supreme pedagogical and didactic aptitude.
Applications are requested to be sent as a PDF-file mentioning the reference number 47/20 by 26 January 2021 to: bewerbung-prof@kug.ac.at
Detailed information: https://csc-kug.at/studierende/jobinfo/stellenausschreibungen-kug
On behalf of the rectorate,
Georg Schulz